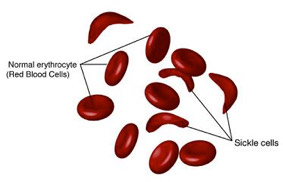 McGowan Institute for Regenerative Medicine affiliated faculty members Marina Kameneva, PhD, Research Professor of Surgery at the University of Pittsburgh School of Medicine, Professor of Bioengineering, and Director of the Artificial Blood Program at the McGowan Institute, and Jonathan Waters, MD, Professor in the Department of Anesthesiology in the University of Pittsburgh School of Medicine, Professor in the Department of Bioengineering, Chief of Anesthesia Services at Magee Womens Hospital of UPMC, and the Medical Director in the Blood Management Division of Procirca, Inc., are members of the team of researchers who were recently awarded a Center for Medical Innovation (CMI) grant for their project, "Reducing alloimmunization and sickle crisis in sickle cell disease patients using a novel method of replacing HbS with donor Hb in autologous RBCs."  The focus of this effort is to develop a novel method for treating sickle cell anemia.  Mark Gartner, PhD, in the Department of Bioengineering at Pitt, is also a member of the team.
CMI, a University Center housed in Pitt's Swanson School of Engineering, supports applied technology projects in the early stages of development with "kickstart" funding toward the goal of transitioning the research to clinical adoption. Proposals are evaluated on the basis of scientific merit, technical and clinical relevance, potential health care impact and significance, experience of the investigators, and potential in obtaining further financial investment to translate the particular solution to healthcare.
"This is our fourth year of pilot funding, and our leadership team could not be more excited with the breadth and depth of this round's awardees," said Alan D. Hirschman, PhD, CMI Executive Director. "This early-stage interdisciplinary research helps to develop highly specific biomedical technologies through a proven strategy of linking UPMC's clinicians and surgeons with the Swanson School's engineering faculty."
Illustration:  National Institutes of Health.
Read more…
University of Pittsburgh Swanson School of Engineering News Release