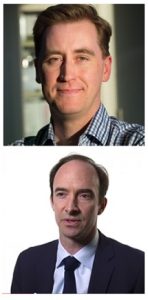 McGowan Institute for Regenerative Medicine affiliated faculty members at the University of Pittsburgh have been awarded grants from the National Science Foundation (NSF) and the National Institutes of Health (NIH) to study diverse aspects of how the brain works.
The grants were awarded as part of the federal BRAIN Initiative, a large-scale effort announced in 2013 aimed at gaining a deeper understanding of the brain and applying the knowledge to prevent and treat brain disorders.
The following researchers and projects were awarded grants:
Matthew Smith, PhD, associate professor of ophthalmology at the Pitt School of Medicine, and Byron Yu, PhD, associate professor of electrical and computer engineering and biomedical engineering at Carnegie Mellon University, were awarded a 4-year, $1 million grant by the NSF to understand how the sensory environment and state of mind combine to affect our perception and interpretation of the world around us. The researchers will use brain computer interfaces with implications for treatment of psychiatric disorders.
Pitt's Avniel Singh Ghuman, PhD, assistant professor of neurosurgery, and Mark Richardson, MD, PhD, associate professor of neurosurgery, will collaborate with Carnegie Mellon University researchers Max G'Sell, PhD, assistant professor of statistics, and Louis-Philippe Morency, PhD, assistant professor of computer science, to understand how our brain perceives and understands the actions, emotions, and communication of others. The NSF-funded, 3-year grant totaling approximately $1 million will allow researchers to understand brain circuits in a real-world setting. Researchers will record electrical brain activity in patients undergoing neurosurgical treatment for epilepsy while they have natural interactions with friends, family, doctors, and hospital staff. Ultimately, the researchers hope to provide much greater insight into neural processes that become dysfunctional in debilitating brain disorders such as autism and post-traumatic stress disorder.
Read more…
UPMC/University of Pittsburgh Schools of the Health Sciences Media Relations News Release