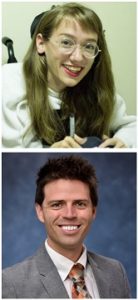 A new group of graduate students and their advisers is joining the drive to increase diversity and inclusion in science.  Emily Ackerman, PhD student, and her adviser, McGowan Institute for Regenerative Medicine affiliated faculty member Jason Shoemaker, PhD, Assistant Professor, Department of Chemical & Petroleum Engineering, University of Pittsburgh, is one of those student-adviser pairs.  Ms. Ackerman is a PhD student studying network virology and host immune responses in Dr. Shoemaker's lab.
The Howard Hughes Medical Institute (HHMI) has awarded 2018 Gilliam Fellowships for Advanced Study to 45 doctoral student-adviser pairs from across the country. All have demonstrated high promise to become leaders in their fields, says David Asai, PhD, HHMI's senior director for science education.  "These are incredibly talented young scientists with the desire to become college and university faculty, where they will help shape the next generation students," Dr. Asai says.
HHMI created the Gilliam Fellowships for Advanced Study in honor of the late James H. Gilliam, Jr.  A charter trustee of HHMI, Mr. Gilliam was a respected business and civic leader who spent his life nurturing excellence and diversity in science and education.
This year, HHMI received 231 applications for Gilliam Fellowships. Selection criteria include nominating materials from the student's university, the student's research proposal, a leadership statement, a letter of recommendation, and the adviser's mentoring plan and proposal for a diversity and inclusion activity.
To be eligible, students must be enrolled in their second or third year of a PhD program in biomedical or life sciences disciplines, but not in an MD/PhD program. Students must be eligible for grants awarded through the National Institute of General Medical Sciences (NIGMS) and must be from racial, ethnic, or other underrepresented groups in the sciences or be alumni of the HHMI EXROP program. Students also must aspire to careers in academic science and demonstrate a commitment to the advancement of diversity and inclusion in the sciences.
The Gilliam program aims to ensure that a diverse and highly trained workforce is prepared to assume leadership roles in science, he explains. HHMI is taking a two-pronged approach: supporting promising graduate students from groups that are underrepresented in science and helping their thesis advisers build inclusive training environments.
Each pair will receive an annual award totaling $50,000 – which includes a stipend, a training allowance, and an institutional allowance – for up to three years. Fellows' thesis advisers will participate in a year of mentor development activities, including online training and two in-person workshops at HHMI headquarters in Chevy Chase, Maryland.
Congratulations, Ms. Ackerman and Dr. Shoemaker!
Read more…
Howard Hughes Medical Institute News Release