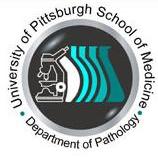 The 16th Annual Department of Pathology Retreat was held on Wednesday, May 25, 2016 at 12:00PM in Scaife Hall, 4th Floor, Lecture Room 5.  The keynote address was by Dr. Charles A. Parkos, MD, PhD, the Carl V. Weller Professor and Chair, Mucosal Inflammation and Epithelial Pathobiology, Department of Pathology, University of Michigan School of Medicine.
For the complete retreat agenda, click here.
The retreat included the Pathology 27th Annual Research Day Presentations, with poster presentations by trainees.  The Poster Session was held at the University Club from 5:00 to 7:00pm.  All CATER trainees presented posters at this event.    All the posters were judged on content and presention of information by the trainee.
Lindsey Saldin from Dr. Stephen F. Badylak's group placed first with a poster titled "Tissue-specific Effects of Normal, Inflammatory, and Cancerous Esophageal Extracellular Matrix Hydrogels." Listed authors are Lindsey T. Saldin (1,2), Luai Huleihel (2), Maria Quidgley-Martin (3), Madeline Cramer (2), David Cardenas (2), Tim Keane (1,2), George Hussey (2), Ricardo Londono (2,3), Lori Kelly (4), Julie Kosovec (4), Emily Lloyd (4), Ashten Omstead (4), Daisuke Matsui (4), Chris Chung (1,2), Amit Shetty (4), Ali Zaidi (4), Blair Jobe (4), Stephen Badylak (1,2,3,5)
1 Department of Bioengineering, University of Pittsburgh, Pittsburgh, PA 15219, USA
2 McGowan Institute for Regenerative Medicine, University of Pittsburgh, Pittsburgh, PA 15219, USA
3 School of Medicine, University of Pittsburgh, Pittsburgh, PA 15219, USA
4 Esophageal and Thoracic Research Laboratories, West Penn Hospital, Allegheny Health Network, Pittsburgh, PA 15224
5 Department of Surgery, University of Pittsburgh, Pittsburgh, PA 15219, USA
Colin Beckwitt in Dr. Alan Wells group tied for third place with a poster titled "Statin inhibition of cancer cell growth tracks with lack of functional E-cadherin mediated cell cohesion and is dependent on statin pharmacologic properties." Listed authors are: Colin Beckwitt, Katsuhiko Warita, Tomoko Warita, Mark E. Schurdak, Amanda Clark, Sarah Wheeler, Alexei Vazquez, Alan Wells, and Zoltán N. Oltvai
The retreat was sponsored by the University of Pittsburgh School of Medicine Center for Continuing Education in the Health Sciences and the Department of Pathology, in conjunction with the Cellular and Molecular Pathology Graduate Program.