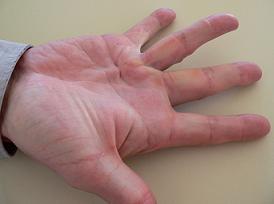 The Scientific Advisory Council of the International Dupuytren Society selected a paper by McGowan Institute for Regenerative Medicine affiliated faculty member Latha Satish, MSc, MPhil, PhD, as the winner of its International Dupuytren Award 2016 in the category Basic Research. The paper is entitled "Developing an animal model of Dupuytren's disease by orthotopic transplantation of human fibroblasts into athymic rat" and appeared in the journal, BMC Musculoskeletal Disorders.  McGowan Institute for Regenerative Medicine affiliated faculty member Sandeep Kathju, MD, PhD, is a co-author on the study.
From the abstract, Dupuytren's disease (DD) is a slow, progressive fibroproliferative disorder affecting the palms of the hands. The disease is characterized by the formation of collagen rich- cords which gradually shorten by the action of myofibroblasts resulting in finger contractures. It is a disease that is confined to humans, and a major limiting factor in investigating this disorder has been the lack of a faithful animal model that can recapitulate its distinct biology. The aim of this study was to develop such a model by determining if Dupuytren's disease (DD)- and control carpal tunnel (CT)-derived fibroblasts could survive in the forepaw of the nude rats and continue to exhibit the distinct characteristics they display in in vitro cultures.
The International Dupuytren Award recognizes exceptional scientific publications on research or clinical treatment of Dupuytren and/or Ledderhose disease. Research can be about treatment, epidemiology, pathogenesis, genomics, or other areas, like anatomy, improving the understanding and treatment of these diseases.
Dr. Satish is a Research Assistant Professor in the Department of Plastic Surgery at the University of Pittsburgh.  Dr. Kathju is an Associate Professor with the University of Pittsburgh School of Medicine in its Department of Plastic Surgery. He also serves as the Chief of Plastic Surgery and the Medical Director of the Wound Healing Center, both appointments at UPMC Passavant Hospital. In addition, he is the Co-Medical Director of the Wound Healing Center at UPMC McKeesport Hospital.
Illustration:  Dupuytren's contracture of the ring finger.  Wikipedia.