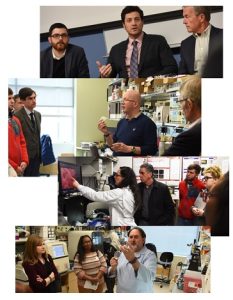 This year's Pittsburgh Life Sciences Week (April 16-20) brought together a diverse mix of life sciences groups, researchers, entrepreneurs, large corporations, and investors to connect and engage across the spectrum, from development in the lab to delivery in the marketplace, and to foster the integration of science and business that will accelerate innovation and translate research into commercial opportunities.
The week-long series of innovation forums covered a wide range of current and emerging topics in the life sciences. During Pittsburgh Life Sciences Week, McGowan Institute for Regenerative Medicine affiliated faculty members helped illustrate why Pittsburgh is poised to become a national leader in life sciences.  McGowan Institute faculty contributions included:
Translating Regenerative Medicine-Based Discoveries to the Market
Host: McGowan Institute for Regenerative Medicine and the Innovation Institute
Description: Visit the McGowan Institute to tour the Biological Scaffolds for Tissue Engineering Lab (Stephen Badylak, DVM, PhD, MD), Cardiac Tissue Engineering Lab (William Wagner, PhD), Temporomandibular Joint (TMJ) Repair Lab (Bryan Brown, PhD), and Thoracic Aortic Disease Lab (Julie Phillippi, PhD). Following the tour, hear about recent spin-outs by McGowan Institute affiliated faculty including LyGenesis (Liver Therapy—Eric Lagasse, PharmD, PhD; Michael Hufford, PhD, CEO), Renerva (Nerve Regeneration—Bryan Brown, PhD; Lorenzo Soletti, PhD, CEO), and Restoure (Esophageal Repair—Stephen Badylak, DVM, PhD, MD; Paul Fagan, CEO).
Meet LifeX™
Host: LifeX including founding CEO Dietrich Stephan, PhD
Description: Visit the new LifeX facility in Pittsburgh's Strip District and celebrate with LifeX team and portfolio company CEOs. LifeX is a US-based biotechnology commercialization platform to deliver first-in-class products to the market to alleviate suffering and death caused by large global unmet health needs such as cancer, Alzheimer's disease, diabetes, etc. The platform is comprised of LifeX Labs, Life X Seed, LifeX Capital and LifeX Portfolio.
Human Engineering Research Lab Tour – An Exploration of Assistive Technology Research
Host: Human Engineering Research Lab (HERL) at the University of Pittsburgh
Description: Hear from Founding Director and VA Senior Research Career Scientist, Rory Cooper, PhD, and tour HERL's extensive lab space which includes a clinical laboratory, a robotics laboratory, and a prototyping and testing facility. HERL is at the forefront of assistive technology research seeking solutions to mobility problems for veterans and all people with disabilities using state-of-the-art laboratories and research instruments. HERL's research encompasses a wide spectrum of the most up-to-date technology, from virtual reality experiments to electronics work with robotics to 3D computer modeling, printing, and machining.
Pittsburgh Health Data Alliance – From the Bench to the Playing Field: The Journey from Idea to Commercialization
Panel Host: Pittsburgh Health Data Alliance
Description: The Pittsburgh Health Data Alliance (PHDA) represents an unprecedented collaboration between Carnegie Mellon University, The University of Pittsburgh, and UPMC. This one-of-a-kind alliance is a wide-reaching commitment to advance technology and create new data-heavy health care innovations resulting in spin-off companies and furthering economic development in the region. The panel will feature key stakeholders in the PHDA to discuss the process of taking an idea and growing it to commercialization.
Panelists include:
Don Taylor, PhD, Co-Director, Center for Commercial Applications of Healthcare Data, University of Pittsburgh
Joe Marks, PhD, Executive Director, Center for Machine Learning and Health, Carnegie Mellon University
Jeffrey Depp, Innovation Institute, University of Pittsburgh
Carl Kingsford, PhD, Center for Machine Learning and Health, Carnegie Mellon University
Rebecca Jacobson, MD, Vice President, UPMC Enterprises
Rob Hartman, PhD, (moderator), UPMC Enterprises
Illustration:  Tom Altany, University of Pittsburgh.
Read more…