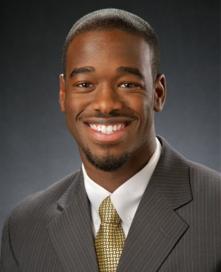 Christopher Mahoney is a 4th year doctoral candidate in the Bioengineering Department at the Swanson School of Engineering and works in the laboratory of McGowan Institute for Regenerative Medicine faculty member Kacey Marra, PhD, Associate Professor in the Departments of Plastic Surgery in the School of Medicine and Bioengineering in the School of Engineering at the University of Pittsburgh and also the Director of the Plastic Surgery Research Laboratory in the Department of Plastic Surgery in Pitt's School of Medicine.
Mr. Mahoney is the awardee a Predoctoral Individual National Research Service Award Fellowship from the National Institutes of Health. The purpose of this program is to enhance the diversity of the health-related research workforce by supporting the research training of pre-doctoral students from population groups that have been shown to be underrepresented in the biomedical, behavioral, or clinical research workforce. The proposed mentored research training is expected to clearly enhance the individual's potential to develop into a productive, independent research scientist.
Congratulations, Mr. Mahoney!