McGowan Institute for Regenerative Medicine faculty member Freddie Fu, MD,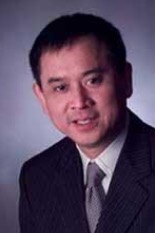 and Carola Van Eck, MD, PhD, an orthopaedic resident from The Netherlands who came to UPMC and the University of Pittsburgh to learn from Dr. Fu and other sports-medicine experts, are part of a research team presented in Chicago with the prestigious Jack Hughston Award for the outstanding sports-medicine paper of 2012 published in the American Journal of Sports Medicine.
In the paper, Drs. Fu and Van Eck and three researchers from Slovenia – principal investigator Mohsen Hussein, MD, Andrej Cretnik, MD, PhD, and Dejan Dinevski, PhD – concluded that anatomic reconstruction techniques of the knee's anterior cruciate ligament (ACL) were superior to reconstructing the ACL using non-anatomical drilling techniques. Dr. Fu traveled to the Artros Center for Orthopaedic Surgery and Sports Medicine in Ljubljana, Slovenia, to collaborate with Dr. Hussein, formerly a UPMC Sports Medicine research fellow.
It is the first time a Pitt or UPMC representative has received the decade-old Hughston Award, named for the surgeon who founded the American Journal of Sports Medicine. It was presented during the 2013 convention of the American Orthopaedic Society for Sports Medicine (AOSSM) at the Sheraton Chicago Hotel and Towers.
"It is definitely a tremendous honor for our program and department to win this prestigious award, named for a leader in sports medicine and a surgeon I greatly admired. In addition to expertise in the examination room, hospital room, and operating room, we place great importance on research and education in our practices in sports medicine and the Department of Orthopaedic Surgery. As a result, we have the opportunity to train and collaborate with great people around the world," said Dr. Fu, chair and David Silver professor of the Pitt Department of Orthopaedic Surgery, and the head team physician for Pitt athletics since 1986. "We have worked tirelessly and passionately to pioneer anatomical ACL reconstruction techniques and make ACL surgery better for the patient. We believe this study shows that anatomical reconstruction will result in the best outcomes for our patients."
Read more…
UPMC/University of Pittsburgh Schools of the Health Sciences Media Relations News Release
Abstract (Prospective randomized clinical evaluation of conventional single-bundle, anatomic single-bundle, and anatomic double-bundle anterior cruciate ligament reconstruction:  281 cases with 3- to 5-year follow-up.  Mohsen Hussein, MD, Carola F. van Eck, MD, PhD, Andrej Cretnik, MD, PhD, Dejan Dinevski, PhD, and Freddie H. Fu, MD, DSc, DPs.  American Journal of Sports Medicine, March 2012, Vol. 40, No. 3, 512-520.)