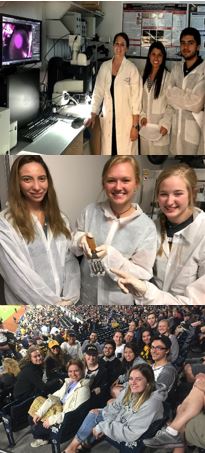 The McGowan Institute for Regenerative Medicine held its fourth annual Regenerative Medicine Summer School 2017 the week of June 4, 2017.  The Summer School week, endorsed by the Society for Biomaterials and the Tissue Engineering and Regenerative Medicine International Society (TERMIS), was initiated and led by McGowan Institute faculty member Bryan Brown, PhD, Assistant Professor with the Department of Bioengineering at the University of Pittsburgh with a secondary appointment in Pitt's Department of Obstetrics, Gynecology and Reproductive Sciences. Dr. Brown is also the Building Interdisciplinary Research Careers in Women's Health Scholar (NIH K12), Magee Women's Research Institute at the University of Pittsburgh, and an Adjunct Assistant Professor, Department of Clinical Sciences, College of Veterinary Medicine at Cornell University.
The Summer School aimed to provide national and regional students with a week-long didactic and experiential learning experience addressing the science and engineering related to the multidisciplinary field of regenerative medicine.
The students came from 9 different states and the countries of Lithuania, Columbia, and Germany.
Many McGowan Institute for Regenerative Medicine affiliated faculty members and students participated in this very successful educational initiative, including:
Paulo Fontes, MD: Machine perfusion and the ex-vivo world for organ preservation
Julie Phillippi, PhD: Regenerative medicine themes in aortic pathology and potential treatments
Riccardo Gottardi, PhD: 3D printing and orthopaedic tissue engineering
Douglas Noble: Lab orientation/chemical hygiene training
Kacey Marra, PhD: Long gap nerve repair in a non-human primate model
Fatima Syed-Picard, PhD: Scaffold-free tissue engineering
Antonio D'Amore, PhD: How to improve control over biomaterials structure – function to design better performing tissue surrogates
Ipsita Banerjee, PhD: Bio-engineering of stem cells for diabetes therapy
Jeffrey Isenberg, MD: Angiogenesis and methodologies for its study
Michel Modo, PhD: Magnetic resonance imaging in regenerative medicine
Bryan Tillman, MD, PhD: Engineering solutions for traumatic hemorrhage
Eric Lagasse, PharmD, PhD: Growing a surrogate liver in lymph node: from an experimental approach to potential clinical application
Lance Davidson, PhD: Lessons from the embryo: principles of tissue engineering
David Vorp, PhD: Stem cell-based vascular repair and regeneration
Morgan Fedorchak, PhD: Challenges and opportunities in ocular drug delivery
Justin Weinbaum, PhD: Taking the red pill: how I entered the matrix
Cecelia Yates, PhD: More than skin deep – the science behind medical innovation for wound care
Rachelle Palchesko, PhD: Engineering Basement Membranes for Repair of the Corneal Endothelium
Lorenzo Soletti, PhD, MBA: Innovation in Medtech: My Experience with Neograft, Inc.
Students experienced the laboratories of Drs. Phillippi, Badylak, Brown, and Tuan.  In addition, they experienced an introduction to the Artificial Heart Program (hosted by Douglas Lohmann, MEng) and the Center for Biological Imaging (Donna Stolz, PhD, host).  The students also enjoyed an evening at PNC Park and an afternoon at the Carnegie Museum of Art and History.  See pictures of the program on the McGowan Institute for Regenerative Medicine Facebook Page.