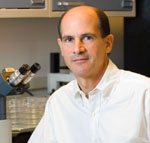 The National Academy of Medicine (NAM) announced the election of 70 regular members and 9 international members during its annual meeting in October.  McGowan Institute for Regenerative Medicine affiliated faculty member Thomas Rando, MD, PhD, professor of neurology and neurological sciences, and director, Glenn Laboratories for the Biology of Aging, Stanford University School of Medicine, Stanford, California, is one of its newest members.  Election to the Academy is considered one of the highest honors in the fields of health and medicine and recognizes individuals who have demonstrated outstanding professional achievement and commitment to service.
Dr. Rando earned his MD and PhD from Harvard Medical School and Harvard University, respectively. He did his internship at Department of Medicine, Massachusetts General Hospital, and his residency with the Department of Neurology, University of California, San Francisco, where he became chief resident. He then did a research fellowship with the Department of Molecular Pharmacology, Stanford University.
Dr. Rando is a member of the American Academy of Neurology, the American Association for the Advancement of Science, the American Society for Cell Biology, the American Neurological Association, and the International Society for Stem Cell Research.
The main areas of interest of the Rando Laboratory are muscle stem cell biology (myogenic lineage progression, cell fate determination, asymmetric cell divisions, Notch signaling, Wnt signaling), muscle stem cell aging (epigenetic determinants, local and systemic influences, roles in age-related decline in regeneration and age-related atrophy), muscular dystrophies (disease pathogenesis, biomarkers, and non-invasive imaging), tissue engineering (artificial scaffolds, regenerative therapies), and basic muscle cell biology (myogenic differentiation, muscle development).
New NAM members are elected by current active members through a selective process that recognizes individuals who have made major contributions to the advancement of the medical sciences, health care, and public health.  A diversity of talent among NAM's membership is assured by its Articles of Organization, which stipulate that at least one-quarter of the membership is selected from fields outside the health professions — for example, from such fields as law, engineering, social sciences, and the humanities.  The newly elected members raise NAM's total active membership to 1,947 and the number of international members to 146.
Established originally as the Institute of Medicine in 1970 by the National Academy of Sciences, the National Academy of Medicine addresses critical issues in health, science, medicine, and related policy and inspires positive actions across sectors.  NAM works alongside the National Academy of Sciences and National Academy of Engineering to provide independent, objective analysis, and advice to the nation and conduct other activities to solve complex problems and inform public policy decisions.  The National Academies of Sciences, Engineering, and Medicine also encourage education and research, recognize outstanding contributions to knowledge, and increase public understanding.  With their election, members make a commitment to volunteer their service in the Academies' activities.
Illustration:  Stanford Center on Longevity.
Read more…
National Academy of Medicine News Release
Stanford University School of Medicine News Release