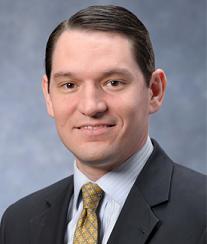 McGowan Institute for Regenerative Medicine faculty member Steven Little, PhD, has been elected to the American Institute for Medical and Biological Engineering (AIMBE) College of Fellows, Class of 2016.  The AIMBE College of Fellows represents the most accomplished and distinguished medical and biological engineers responsible for innovation and discovery.  AIMBE represents the top 2% of medical and biological engineering professionals.
Dr. Little will be inducted into AIMBE in the spring of 2016.  The citation associated with Dr. Little's induction is, "For exceptional contributions to the field of controlled release and the establishment of the nascent field of biomimetic drug delivery."
At the University of Pittsburgh, Dr. Little is the Chairman of the Department of Chemical and Petroleum Engineering and is a Professor and CNG Faculty Fellow in the Departments of Chemical and Petroleum Engineering, Bioengineering, Immunology, and Ophthalmology. Dr. Little joined the McGowan Institute in 2006 after receiving his PhD from the Massachusetts Institute of Technology.
Researchers in Dr. Little's Lab focus upon therapies that are biomimetic in that they replicate the biological function and interactions of living entities using synthetic systems. The areas of study include bioengineering, chemistry, chemical engineering, ophthalmology, and immunology. The health issues addressed include autoimmune disease, battlefield wounds, cancer, HIV, ocular diseases, and transplantation. Some of the ongoing research projects in the lab include: Mimicking Biological Structure and Behavior Using Polymeric Release Systems and Carbon Nanotubes, Treatments for Periodontitis that Restore Immunological Homeostasis, Sequential Delivery of Growth Factors for Regeneration of Tissues, and Thermo-gelling Eye Drops for the Delivery of Ophthalmic Therapies. Dr. Little currently has 10 provisional, 2 pending, and 5 issued patents.
Since joining the University, Dr. Little has received numerous awards. Most recently he was named a Fellow of the Biomedical Engineering Society (2015), one of five Pittsburgh "Disruptors" who are "Shaking Up the Status Quo and Reshaping Our World" by Pop City Pittsburgh (2014), the Innovative Ophthalmic Research Award – Research to Prevent Blindness (RPB) (2014), and the Carnegie Science Award (University Educator) (2013).  Dr. Little is also one of the individuals named by the Camille and Henry Dreyfus Foundation as a Dreyfus Teacher-Scholar. He is also the only individual from the School of Engineering to ever win both the Chancellor's Distinguished Research Award (2012) and the Chancellor's Distinguished Teaching Award (2013). In 2008, Dr. Little was named a Young Investigator by the Arnold and Mabel Beckman Foundation for his innovative research.
Dr. Little is also a Co-Founder for Qrono Inc., a Pittsburgh-based biotech start-up company that custom designs controlled release formulations in silico for pharmaceutical companies, academic laboratories, and agricultural companies.
Congratulations, Dr. Little!