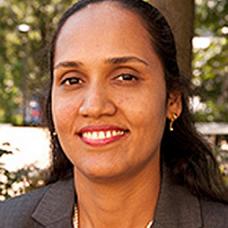 McGowan Institute for Regenerative Medicine affiliated faculty member Shilpa Sant, PhD, received a Rising Star Award for Early Career Faculty from the Biomedical Engineering Society during the 2016 Biomedical Engineering Society-Cellular and Molecular Bioengineering meeting held in New Orleans, Louisiana.
This year's conference theme focused on engineered tissues as models of disease, micro- and macro-scale technologies for building tissues, mechanobiology of regenerative medicine, and stem cell processing.
Dr. Sant delivered her presentation entitled "Engineering Tumor Microenvironments in Early and Advanced Stage Breast Tumors." Previously, Dr. Sant was the recipient of a Rising Star Award in the postdoctoral fellow category on her work on gradient materials for tooth morphogenesis in 2013.
 Dr. Sant is an assistant professor in the Department of Pharmacy at the University of Pittsburgh.
Congratulations, Dr. Sant!
Read more…
University of Pittsburgh School of Pharmacy News