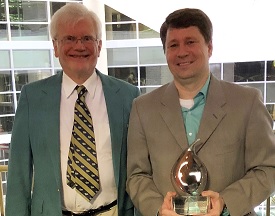 Recognizing his significant accomplishments over the past year, McGowan Institute for Regenerative Medicine affiliated faculty member Robert Parker, PhD, Full Professor, was the 2017 winner of the James Pommersheim Award for Excellence in Teaching in Chemical Engineering at the annual Department of Chemical and Petroleum Engineering gathering.
In presenting the award, Department Chair and McGowan Institute faculty member Steven Little, PhD, William Kepler Whiteford Endowed Professor in the Departments of Chemical and Petroleum Engineering, Bioengineering, Immunology, and Ophthalmology, noted that Dr. Parker was promoted to Vice Chair for Graduate Education, graduated four PhD students (in one year), published eight papers, ran an REU program, received a 4.75 OTE score in 0500 Process Systems with 63 students (as an overload teaching assignment), established ENGR 1933 Engineering a Craft Brewery with the most successful first-offering elective in the history of the Swanson School, and won the Swanson School of Engineering's Outstanding Educator Award this fall.
The Pommersheim Award was established by the Department and James M. Pommersheim ('70) to recognize departmental faculty in the areas of lecturing, teaching, research methodology, and research mentorship of students. Dr. Pommersheim, formerly Professor of Chemical Engineering at Bucknell University, received his bachelor's, master's, and PhD in chemical engineering from Pitt.
Congratulations, Dr. Parker!
Illustration:  Dr. Pommersheim (left) with Dr. Parker. University of Pittsburgh Swanson School of Engineering.
Read more…
University of Pittsburgh Swanson School of Engineering News Release