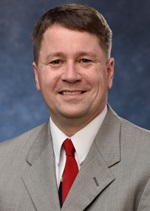 In response to increasing enrollment and curricular evolution, two Vice Chair positions for faculty have been established in the Department of Chemical and Petroleum Engineering at the University of Pittsburgh's Swanson School of Engineering. Taryn Bayles, PhD, will become the Vice Chair for Undergraduate Education, and McGowan Institute for Regenerative Medicine affiliated faculty member Robert Parker, PhD, will become the Vice Chair for Graduate Education.
"Taryn's and Bob's shared commitment to our students is very moving to me, and I am quite impressed with the visions that they set forth," said McGowan Institute for Regenerative Medicine faculty member Steven Little, PhD, William Kepler Whiteford Professor and Chair of the Department of Chemical and Petroleum Engineering. "They have the Department's full support in achieving those visions, and I could not be more excited to serve alongside them."
Dr. Parker served as the Department's graduate program coordinator from 2006 – 2012. He will be responsible for building the graduate program quality and diversity, with a focus on engaging the post-graduate community.
Dr. Parker joined the University of Pittsburgh faculty as an Assistant Professor in 2000 and was promoted to Professor in 2014. His research program focuses on systems medicine and the use of mathematical models in the design of clinical decision support systems. He has been recognized for excellence in education through awards such as the Carnegie Science Center Excellence in Higher Education Award, the David L. Himmelblau Award from the Computing and Systems Technology (CAST) Division of AIChE, and most recently the 2017 Swanson School of Engineering Outstanding Educator Award. His commitment to a collaborative future in graduate education formed the basis of two funded Department of Education Graduate Assistance in Areas of National Need (GAANN) training programs, as well as the Systems Medicine Research Experiences for Undergraduates (REU) program.
In addition to developing graduate-level training programs to support PhD students, Dr. Parker will lead graduate admissions, manage PhD timelines including qualifying examinations, support graduate recruiting, work with the Swanson School Office of Diversity to continue building a diverse graduate program, serve as the faculty advisor of the Department's Graduate Student Association, and manage faculty teaching assignments.
Congratulations, Dr. Parker!
Illustration:  University of Pittsburgh.
Read more…
University of Pittsburgh Swanson School of Engineering News Release