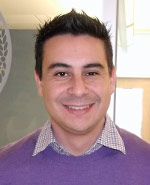 Ricardo Londono, PhD, has been selected as the recipient of the Society of Biomaterials' 2017 Student Award for Outstanding Research (PhD candidate and equivalent category). Dr. Londono is a MD/PhD student who completed his PhD training in 2015 and is expected to complete his MD training in 2017.
Dr. Londono was a graduate student in the laboratory of McGowan Institute for Regenerative Medicine deputy director Stephen Badylak, DVM, PhD, MD, for over 4 years beginning in 2011 where his research focused upon the mechanisms by which cell:matrix interactions result in constructive remodeling of tissues. As a logical component of this work, Dr. Londono developed a special interest in characterizing the host response to implantable biomaterials, including those composed of extracellular matrix, synthetic polymers, and hybrid materials. Dr. Londono's productivity during his graduate work was nothing short of remarkable, having authored 15 peer reviewed manuscripts and 3 book chapters; he was first author on 5 of these publications, one of which appeared in the Annals of Biomedical Engineering entitled "Biologic Scaffolds for Regenerative Medicine: Mechanisms of In vivo Remodeling." This manuscript has been the most highly cited paper during the past year in that journal, and Dr. Londono received an award in recognition of that accomplishment at the BMES meeting in Minneapolis in October 2016.  His work has also been published in Biomaterials (4 papers), JBMR, Acta Biomaterialia, Plos One, and Tissue Engineering (3 papers).  In keeping with his clinical and translational interests, Dr. Londono has also published in the Annals of Thoracic Surgery and the World Journal of Gastroenterology; both of these papers describing advancements in his area of clinical interest which is esophageal disease.
To highlight the importance and clinical relevance of Dr. Londono's research, a Phase I clinical study investigating the use of ECM biologic scaffolds for esophageal reconstruction is currently in progress.  This study is, in part, directly related to his work and is a rare example of the direct correlation and progression of bench top, preclinical, and now clinical research.
Coupled with his research and publication accomplishments, Dr. Londono has given podium presentations at meetings such as the Society for Biomaterials (Boston, MA – 2013) and the McGowan Institute for Regenerative Medicine Annual Retreat (Farmington, PA – 2015). As well, he maintained a stellar academic record while completing courses, in not only the medical school curriculum, but also courses in science and biomaterials, stem cells, molecular cell biology and biophysics I, cardiovascular system dynamics and modeling, a cardiovascular clinical internship, and supporting courses such as biostatistics and a regenerative medicine seminar series.
In addition to the above, Dr. Londono also found time to serve on no less than 6 separate student committees, including Chair of the MSTP diversity committee, volunteering his time as a tutor in Biology and Medical Spanish, and serving as a volunteer at the Children's Hospital.
Congratulations, Dr. Ricardo Londono, and best wishes for continued success!