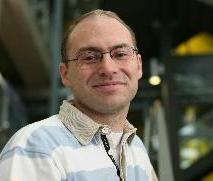 McGowan Institute for Regenerative Medicine affiliated faculty member Michel Modo, PhD, Associate Professor in the Departments of Radiology, Bioengineering, and the Center for Neural Basis of Cognition, University of Pittsburgh, has been elected president of the American Society for Neural Therapy and Repair and the chair of its 25th Anniversary Meeting in 2018. This will be a joint International Meeting with its sister societies Network of European CNS Transplantation and Restoration and the Pan Pacific Symposium on Stem Cells and Cancer Research.
Brain damage and neurodegenerative disease are disabling conditions that affect many millions of patients and their families. Yet, there is very little currently that can be done to reverse the effects of brain damage. As the Director of the Regenerative Imaging Laboratory at Pitt, Dr. Modo and his team are investigating whether some of the cells that have been lost can be replaced with transplanted neural stem cells (i.e. the cells that typical produce the brain during development) and can provide some recovery.  Eventually they hope to have formulated methods that will allow the regeneration of lost brain tissue. The challenges for this are, nevertheless, considerable and Dr. Modo and his colleagues are but taking the very first steps in a long marathon to achieve this!
One key feature of tissue engineering in the brain is to inject cells and biomaterials into the right location where the damage is found. The skull, however, prevents easily seeing these locations and therefore there's the need to use non-invasive imaging techniques that can peek deep into tissues. Magnetic Resonance Imaging (MRI) and Positron Emission Tomography (PET) are two of these techniques that can be used in pre-clinical feasibility studies, but the same techniques may one day be used on patients. Apart from locating where materials need injected, there is also the need to devise novel imaging methods that will allow identification of the materials injected and to monitor its development from a cells and biomaterials mixture into an integrated and functional brain tissue.
The American Society for Neural Therapy and Repair is dedicated to the development of pioneering biologic and reparative therapies to treat neurologic disorders. This is achieved through the utilization of novel cellular, gene, molecular, proteomic, and other biologic therapies. Members include visionaries and developing scientists who work in a collegial, collaborative manner. These relationships facilitate the rapid translation of research from the laboratory to the clinic, as well as the career advancement of young investigators in the field. These exchanges occur at annual scientific meetings, as well as at biannual social events.