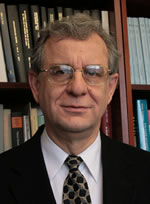 McGowan Institute for Regenerative Medicine affiliated faculty member George Michalopoulos, MD, PhD, has been inducted into the Association of American Physicians (AAP), a nonprofit, professional organization founded in 1885 for the "advancement of scientific and practical medicine."
Dr. Michalopoulos is the Maud L. Menten Professor of Experimental Pathology and chair of the Department of Pathology. His research focuses on new therapies for liver fibrosis and the disease mechanisms in alpha-1 antitrypsin deficiency.
Dr. Michalopoulos received his medical doctoral degree at Athens University School of Medicine, Athens, Greece, in 1969. A residency in Anatomic Pathology and a PhD study in Oncology were completed at the Wisconsin Medical Center in Madison in 1977. Dr. Michalopoulos moved to Duke University as an Assistant Professor in 1977 and stayed at Duke University until 1991. He then moved to Pittsburgh and joined the University faculty in April of 1991. In addition to his current appointment, Dr. Michalopoulos also served as Associate Vice Chancellor for Health Sciences and Interim Dean of the School of Medicine from November of 1995-1998. In 2012, he was honored with the title, University of Pittsburgh Distinguished Professor.
Election to AAP is an honor extended to individuals with outstanding credentials in biomedical science and/or translational biomedical research and is limited to 60 inductees per year. An association of the country's most accomplished physician-scientists, AAP serves as a forum to create and disseminate knowledge and as a source of inspiring role models for upcoming generations of physicians and medical scientists.
Congratulations, Dr. Michalopoulos!
Read more…
UPMC/University of Pittsburgh Schools of the Health Sciences Media Relation