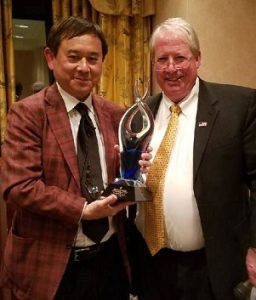 Gwinnett Medical Center (GMC), Lawrenceville, Georgia, recently awarded McGowan Institute for Regenerative Medicine affiliated faculty member Freddie Fu, MD, Distinguished Service Professor and the David Silver Professor of Orthopaedic Surgery and Chairman of the Department of Orthopaedic Surgery at the University of Pittsburgh School of Medicine and University of Pittsburgh Medical Center, with its Pioneer of Sports Medicine Award.  This award is an honor bestowed on a physician GMC determines to have made a "significant impact in the field of sports medicine and the treatment of athletes."    The award was presented to Dr. Fu for his extensive contributions to surgical techniques for patients.
"Dr. Fu has built a global reputation for innovation in pioneering new surgical techniques for sports-related injuries," said Gary Levengood, MD, chairman of GMC's sports medicine program. "With this, we recognize a physician who has dedicated his life to improving patient care."
"I am honored and humbled to be among the group of physicians who have received the Pioneer of Sports Medicine award over the years," Dr. Fu said. "I'm deeply appreciative to GMC, who is helping advance sports medicine."
Dr. Fu received his medical degree from the University of Pittsburgh School of Medicine where he also completed both a residency in orthopedic surgery and a fellowship in orthopedic research. He earned undergraduate and post graduate degrees from Dartmouth and Dartmouth's Geisel School of Medicine.
In 1985, Dr. Fu helped establish the University of Pittsburgh School of Medicine Sports and Preventive Medicine Institute, which is now a preeminent center. Since 1986, he has served as the head team physician for the University of Pittsburgh Department of Athletics, and he established the school's Sports Medicine Fellowship Program for physicians.
Dr. Fu received the award at a banquet held at the 1818 Club attended by orthopedic surgeons, residents, fellows and other sports medicine professionals from the metro Atlanta area.
Illustration:  Gwinnett Medical Center.
Read more…
Gwinnett Medical Center News Release