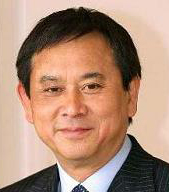 At the recently held International Society of Arthroscopy, Knee Surgery and Orthopaedic Sports Medicine Congress in Shanghai, China, McGowan Institute for Regenerative Medicine faculty member Freddie Fu, MD, DSc(Hon), DPs(Hon), received the Chinese Sports Medicine Outstanding Contribution Award.  Dr. Fu is the first-ever recipient of the award.
Dr. Freddie Fu is a Distinguished Service Professor and the David Silver Professor of Orthopaedic Surgery and Chairman of the Department of Orthopaedic Surgery at the University of Pittsburgh School of Medicine and University of Pittsburgh Medical Center. Dr. Fu is the head team physician for the University of Pittsburgh Department of Athletics (since 1986).  He also holds secondary appointments at Pitt as a Professor of Physical Therapy, School of Health and Rehabilitation Sciences, Professor of Health and Physical Activity, School of Education, and Professor of Mechanical Engineering & Materials Science, Swanson School of Engineering.
Dr. Fu is known worldwide for his pioneering surgical techniques to treat sports-related injuries to the knee and shoulder and his extensive scientific and clinical research in the biomechanics of such injuries. He performs surgery at University of Pittsburgh Medical Center and sees patients at the Center for Sports Medicine. Because of his reputation, Dr. Fu attracts both athletic and non-athletic patients from all over the globe and has been featured in several publications.
Congratulations, Dr. Fu!
Read more…