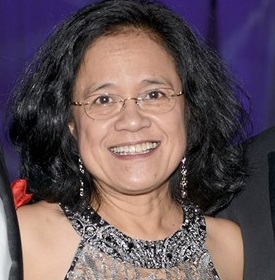 The 2018 Pittsburgh Heart Ball took place on February 17th at the Pittsburgh Wyndham Grand Hotel.  550 supporters came to celebrate the award recipients and raise $1.2 million for research and prevention of stroke and heart attack education.
This affair marks the presentation of the Peter J. Safar Pulse of Pittsburgh Award. This year the award was received by McGowan Institute for Regenerative Medicine affiliated faculty member Flordeliza Villanueva, MD.
Dr. Villanueva is currently Professor of Medicine in the Division of Cardiology and Vice Chair for Pre-Clinical Research of the Department of Medicine.  In the clinical arena, Dr. Villanueva is the Director, Non-Invasive Cardiac Imaging, UPMC Heart and Vascular Institute, overseeing the clinical imaging programs in Echocardiography, Nuclear Cardiology, and Cardiac Magnetic Resonance. She has focused her research on the development of ultrasound contrast agents (microbubbles) for assessment of the microcirculation, ultrasound molecular imaging, and ultrasound-mediated therapeutics.
Dr. Villanueva is also the Director of the Center for Ultrasound Molecular Imaging and Therapeutics, UPMC Heart and Vascular Institute, a multidisciplinary translational research facility espousing the philosophy that moving technologies from pre-clinical status to the bedside requires strong traditional science and engineering, married to strong entrepreneurship. Her laboratory was the first to demonstrate that molecularly targeted microbubbles bind to biological surfaces overexpressing molecular targets, ultimately allowing ultrasonic imaging of disease/function-specific epitopes in vivo. Her group has led the study of how unique acoustic behaviors of microbubbles can be harnessed to therapeutic effect, such as drug/gene delivery or sonothrombolysis. She led the development of the UPMC Cam, an ultra-high speed microscopy imaging system capable of acquiring images at up to 25 million frames per second in either bright-field or fluorescence modes. Such a system allows the direct visualization of the mechanics of a single oscillating microbubble and the dynamics of a microbubble's interaction with biological cells. This unique tool will help us better understand microbubble dynamics, mechanisms of microbubble mediated bioeffects, and improve their design for specific applications.
The American Heart Association – Allegheny Division board of directors and the Heart Ball committee created the Pulse of Pittsburgh Award in 2003 to recognize an individual's leadership in the fight against heart disease and stroke. In 2004, the committee changed the name to the Peter J. Safar Pulse of Pittsburgh Award in honor of the late Peter J. Safar, MD, distinguished professor of resuscitation medicine at the University of Pittsburgh, who also was known as the Father of CPR.
Congratulations, Dr. Villanueva!
Illustration:  American Heart Association.
Read more…
American Heart Association Facebook