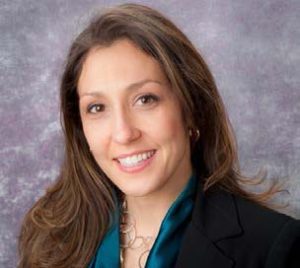 McGowan Institute for Regenerative Medicine faculty member Fabrisia Ambrosio, PhD, MPT, is the new Director of Rehabilitation for UPMC International as well as an Associate Professor in the Department of Physical Medicine & Rehabilitation at the University of Pittsburgh. Dr. Ambrosio's primary responsibility in her new role will be to coordinate and supervise operations, including clinical and research initiatives, associated with rehabilitation programs offered through UPMC International. Currently, she is working with colleagues from UPMC Italy toward the development of an Integrative Wellness Center in Tuscany. This Center, which is slated to open in February 2017, will operate as an advanced and integrated center for preventative medicine focusing on primary and secondary prevention of metabolic syndrome, cardiovascular diseases, and musculoskeletal dysfunction. The longer-term research objective is to establish a biomarker discovery platform to aid in the identification of minimally invasive indicators of health status over time, with the goal of optimizing the efficacy of rehabilitation interventions. The center in Tuscany will serve as a prototype for multiple similar centers around the world.
In her new capacity, Dr. Ambrosio will provide oversight to quality and clinical effectiveness of rehabilitation services provided by UPMC International. She will ensure implementation of the most current evidence-based practices into clinical rehabilitation services and will also take a leadership role in the development and maintenance of practice guideline manuals for use in UPMC rehabilitation clinics worldwide. Finally, Dr. Ambrosio will serve as a member of the Scientific Advisory Committee at respective programs implementing international UPMC rehabilitation services.
Dr. Ambrosio's research has the long-term goal of developing Regenerative Rehabilitation approaches to improve the skeletal muscle healing and functional recovery. Her laboratory uses murine and human models to investigate the underlying mechanisms by which targeted and specific mechanotransductive signals can be used to enhance donor and/or host stem cell functionality. Dr. Ambrosio's research has been supported by the NIH, the DOD, the Foundation for Physical Therapy, the Claude D. Pepper Older American's Independence Center, and the University of Pittsburgh Institute on Aging, among others.
Dr. Ambrosio has published and recorded several educational modules on the topic of Regenerative Rehabilitation and has assumed national leadership roles in several work group efforts to promote the integration of regenerative medicine technologies with rehabilitation approaches. She is the Founding Course Director of the Annual International Symposium on Regenerative Rehabilitation. She is also the Founding Director of the International Consortium for Regenerative Rehabilitation, which includes eleven participating institutions representing North America, Europe, and Asia.
Dr. Ambrosio graduated with a Master of Science in Physiology-Endocrinology with a specialization in skeletal muscle physiology from Laval University in Québec City, Québec. She also graduated with a Master of Physical Therapy from the Medical College of Pennsylvania and Hahnemann University, Philadelphia, Pennsylvania. In 2005, Dr. Ambrosio completed her PhD in Rehabilitation Science & Technology from the University of Pittsburgh.
UPMC International shares UPMC's clinical, technological, and managerial knowledge and expertise with partners across the globe customizing solutions so that patients and regions can benefit and thrive.  The goal is to advance UPMC's mission of positively transforming the way health care is provided. UPMC is building a global health care brand that will continue to attract the best and brightest physicians, nurses, researchers, and staff for the benefit of all of its patients and partners.