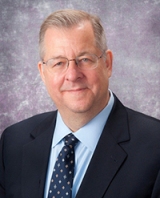 McGowan Institute for Regenerative Medicine affiliated faculty member David Whitcomb, MD, PhD, the Giant Eagle Foundation Professor of Cancer Genetics, a Professor of Medicine, Cell Biology and Physiology, and Human Genetics, and the Chief of the Division of Gastroenterology, Hepatology, and Nutrition at the University of Pittsburgh School of Medicine, is the recipient of the Henry Lynch Award by the International Symposium on Inherited Diseases of the Pancreas for his hereditary pancreatitis gene discovery. He was selected by the 9th International Symposium on Inherited Diseases of the Pancreas committee.  He received the award during the 2016 PancreasFest held in Pittsburgh.
"I focused on the pancreas mainly because I was told early on that it was a hopeless disease. A hopeless disease needs a champion and I decided to dedicate my career to solving an unsolvable problem and find a way to treat a so-called hopeless condition," said Dr. Whitcomb.
PancreasFest is an annual meeting of pancreas physicians and translational researchers who convene during the last week of July to find new ways of working together to improve patient care.  PancreasFest is an umbrella meeting that supports multiple smaller meetings with very focused goals. These include education programs, discussion sessions for new ideas, learning from other disciplines, investigator meetings, and efforts to help young investigators get started exporing their own ideas.
Read more…