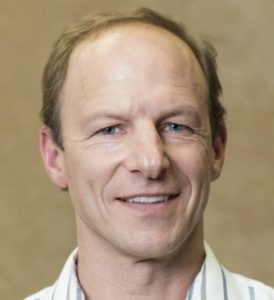 McGowan Institute for Regenerative Medicine affiliated faculty member David Brienza, PhD, professor and associate dean of research in the School of Health and Rehabilitation Sciences, University of Pittsburgh, received the National Pressure Ulcer Advisor Panel's (NPUAP's) Kosiak Award for his significant contributions to the prevention and/or management of pressure injuries. Dr. Brienza is a leader in the wound care provider community and received the award at NPUAP's 2017 Biennial Conference in New Orleans.
Dr. Brienza is an electrical engineer that has been investigating, developing, and evaluating technology for mobility (wheelchairs) and tissue integrity management (seat cushions and mattresses) for the last 28 years.  He has served as the Director of the Rehabilitation Engineering Research Center (RERC) on Wheeled Mobility (2001-2004), Director of the RERC on Telerehabilitation (2004-2015), and Director of the RERC on Spinal Cord Injury (2007-2013). Dr. Brienza has an extensive record of federal funding and publication in the area of rehabilitation technology.
The scope of his work ranges from technology development in the seating and mobility, to investigations on the physiological responses to mechanical and heat loading, to clinical effectiveness research in the form of large-scale RCTs. He is the inventor on seven patents related to technology for people with disabilities.
Read more…