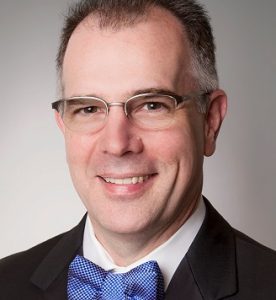 McGowan Institute for Regenerative Medicine faculty member Bernard Costello, MD, DMD, professor of oral and maxillofacial surgery, has been named dean of the University of Pittsburgh School of Dental Medicine, Pitt's Senior Vice Chancellor for the Health Sciences Arthur Levine announced recently. Dr. Costello has been serving as interim dean since February 2018 and will begin his deanship on April 1.
"Dr. Costello is deeply committed to our School of Dental Medicine, its faculty and students, and their success," said Pitt Chancellor Patrick Gallagher. "I am pleased to welcome him — officially — to this role and excited to watch the School continue to flourish under his direction."
Dr. Costello joined Pitt's faculty in 2001 in the Department of Oral and Maxillofacial Surgery and he has served as the School's associate dean for faculty affairs and senior associate dean. He directed translational research for the School of Dental Medicine and the oral and maxillofacial surgery residency program until 2016 and he remains the fellowship director for pediatric craniomaxillofacial surgery. Dr. Costello is chief of both the Division of Craniofacial and Cleft Surgery in the School of Dental Medicine and the Division of Pediatric Oral and Maxillofacial Surgery at Children's Hospital of Pittsburgh of UPMC.
"We are fortunate that our own faculty member, with years of commitment to his School, to our University and to our medical center, and who is recognized nationally and internationally for his research and clinical and educational achievements, has chosen to serve as our dean," said Dr. Levine, who is also the John and Gertrude Petersen Dean of Pitt's School of Medicine.
Throughout his career, Dr. Costello has been published extensively and secured more than $6.6 million in grants and funding for his research, which has focused on bone scaffolding for craniofacial regeneration, the roles of various proteins in craniofacial regeneration and other aspects of bone tissue engineering.
"As health care educators and researchers, we are tasked with providing new ideas and solutions to complex problems," said Dr. Costello. "I have seen the School of Dental Medicine grow and evolve over the years, and I am excited for the opportunity to lead our students and faculty into a future that is focused on advancing oral health care through interdisciplinary teamwork and collaboration."
Dr. Costello earned his Bachelor of Science in biological science from the University of Scranton, followed by doctorates in medicine and dental medicine from the University of Pennsylvania. Prior to Pitt, he completed training at the University of Pennsylvania Health System followed by the Georgetown University Medical Center. Dr. Costello is currently the president-elect of the American Cleft Palate-Craniofacial Association.
Dr. Costello's tenure as dean follows that of Thomas W. Braun, who retired recently after serving as dean for 18 years and spending his entire postsecondary education and career at Pitt.
The School of Dental Medicine was incorporated into the University of Pittsburgh in 1905, and today offers a four-year predoctoral program leading to a Doctor of Dental Medicine degree, doctorate and master of science programs in oral biology, an international Advanced Standing Program for graduates of foreign dental schools and a post-graduate residency programs in 11 disciplines. Additionally, the School of Dental Medicine offers the only dental hygiene certificate program in Pennsylvania affiliated with a major university, as well as a dental hygiene baccalaureate degree program.
The School of Dental Medicine also provides comprehensive clinical care, including the Multidisciplinary Implant Center and the Center for Patients with Special Needs, one of the few centers in the U.S. dedicated to training future dentists to care for patients with disabilities. Recognized for excellence in research, the School of Dental Medicine is a top tier ranked National Institute of Dental and Craniofacial Research institution.
Congratulations, Dr. Costello!
Illustration:  University of Pittsburgh.
Read more…