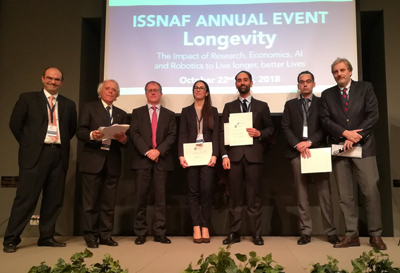 In pursuing its mission, the Italian Scientists and Scholars of North America Foundation (ISSNAF) grants specific focus to early stage investigators working in North America whose commitment to their discipline of study is innovative, impactful, and honors their country of origin.
McGowan Institute for Regenerative Medicine affiliated faculty member Antonio D'Amore, PhD, Research Assistant Professor in the Departments of Surgery and Bioengineering at the University of Pittsburgh, was selected as this year's recipient of the ISSNAF Franco Strazzabosco Award for Young Engineers.  This award was established by the Strazzabosco family in 2013 in memory of their late father, Franco Strazzabosco.  It is a tribute to the entrepreneurial courage of Italian engineers, who strive in applying scientific discoveries to public advantage.
On November 8, 2018, at the Italian Embassy in Washington, DC, Dr. D'Amore will be honored with the Medaglia di Rappresentanza del Presidente della Repubblica Italiana and receive a prize of $3,000.
Dr. D'Amore's research seeks to couple a mechanistic understanding of the relationship between scaffolds micro-structure, mechanics, and endogenous tissue growth with the development of novel biomaterials for tissue engineering strategies. The focus of his research is upon unmet clinical needs in cardiovascular diseases. Recent areas of interest include: quantitative histology and biomaterials micro-structure image-based analysis, structural modeling strategies to guide tissue engineering scaffold fabrication, development of cardiac restrain devices, vascular grafts and engineered heart valves. Dr. D'Amore's current project funding comes from the National Institutes of Health, RiMED Foundation, The Wallace H. Coulter Foundation, and the University of Pittsburgh.
Dr. D'Amore thanked William Wagner, PhD, Director of the McGowan Institute, for his "invaluable mentorship over the years. A personal success never belongs to one person only," said Dr. D'Amore.
Graduated in Electro-technical Engineering from Universita' di Padova in 1953, Franco Strazzabosco ran a successful career in the field of hydroelectric power with Montecatini, Gruppo SNIA, Gas Metano Camerini, and Metano BSP.  As CEO and main shareholder of C.I.GAS S.p.A., Franco Strazzabosco contributed to Italian energy development, supplying services which improved people's quality of life and industrial operational capabilities. His entrepreneurial initiative marked the historic time of Italy's gas grid development thanks to the positive interaction between private entrepreneurship and local Government.
Congratulations, Dr. D'Amore!