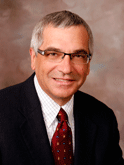 Anthony Delitto, PhD, PT, FAPTA, has been appointed dean of the School of Health and Rehabilitation Sciences (SHRS). The former chair of the Department of Physical Therapy and SHRS associate dean for research had served as interim dean of the school since July 2015.
Dr. Delitto also is vice president for education and research at the UPMC Centers for Rehab Services (CRS). He is a member of the Board of Directors of the Pitt/UPMC Aging Institute and the steering committees of the Clinical Translational Science Institute and the Health Services Research Data Center of the Health Policy Institute.  In addition, Dr. Delitto is a McGowan Institute for Regenerative Medicine affiliated faculty member.
Dr. Delitto began his career as a practicing physical therapist at the Irene Walter Johnson Institute of Rehabilitation and as a physical therapy faculty member at Washington University School of Medicine. He joined SHRS in 1992 as an assistant professor in the Department of Physical Therapy.
Over the past 25 years, Dr. Delitto's research has focused on non-pharmacological management of painful musculoskeletal conditions, particularly low back pain. He and his colleagues pioneered research on a treatment-based classification system that combines physical and psychological principles in low back pain management.
His current research involves integrating the results of classification and treatment effectiveness studies into quality improvement initiatives, and he recently was awarded a multi-site $13 million Patient Centered Outcomes Research Institute (PCORI) grant to conduct a large pragmatic trial in which the primary aim is to reduce the transition from acute to chronic low back pain.
He received his BS in physical therapy from SUNY-Buffalo and his Master of Health Science degree in physical therapy and his PhD in social psychology, both from Washington University.
Congratulations, Dr. Delitto!
Read more…