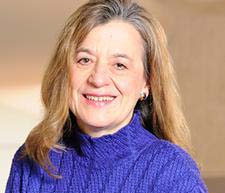 The U.S. Department of Defense recently announced the awarding of their 2017 large, multi-university grants in their MURI program.  One of the 23 awards will go to a team of researchers led by McGowan Institute for Regenerative Medicine affiliated faculty member Anna Balazs, PhD, Distinguished Professor of Chemical Engineering and the Robert v. d. Luft Professor, Department of Chemical & Petroleum Engineering, University of Pittsburgh.  Dr. Balazs will serve as the PI on the project entitled "Adaptive Self‐Assembled Systems:  Exploiting Multifunctionality for Bottom‐up Large Scale Engineering" with the team spanning the University of Pittsburgh, Harvard, Northwestern, and the University of Illinois.  The award is for 5 years at $1.5 million per year.
"The Multidisciplinary University Research Initiative program, or MURI, supports research by funding teams of investigators that include more than one traditional science and engineering discipline in order to accelerate the research progress," said Dale Ormond, principal director for research in the Office of the Assistant Secretary of Defense for Research and Engineering. "Most of the program's efforts involve researchers from multiple academic institutions and academic departments." Ormond also stated that, "MURI awards also support the education and training of graduate students in new, cutting-edge research."
The highly competitive MURI program complements other DOD basic research efforts that support traditional, single-investigator university research grants.  By supporting multidisciplinary teams with larger and longer awards in carefully chosen and timely research topics identified for their long-term importance, DOD and the military services enhance the potential for significant and sustained advancement of the research in critical areas.
The Army Research Office, the Air Force Office of Scientific Research, and the Office of Naval Research solicited proposals in 23 topic areas important to the DOD and the military services.  In response to the initial solicitation the department received 315 white papers.  After two rounds of merit-based reviews, a panel of DOD experts narrowed the proposals to 89 from which the 23 final awards were selected.  Based on the proposals selected in the 2017 competition, 55 U.S. academic institutions are expected to participate in 2017 MURI program.
Over the past 30 years, DOD's MURI program resulted in significant capabilities for our military forces and opened up entirely new lines of research. Notable examples include foundations in artificial intelligence, compressive sensing and automated scene recognition, ultracold atoms and advanced sensing and navigation, advances in optoelectronics and mid-infrared imaging technology, and direct brain-computer communication. These and other important technological advances from the MURI program have impact on current and future military capabilities as well as multiple applications in the commercial sector.
Read more…