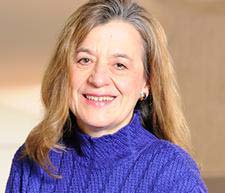 Annually, the National Science Foundation's (NSF) Directorate for Mathematical and Physical Sciences invites media and members of the public to a series of lectures that helps promote a national discussion of issues that scientists expect to shape their research in the coming years. McGowan Institute for Regenerative Medicine affiliated faculty member Anna Balazs, PhD, was a Distinguished Lecturer for the NSF on June 22, 2015.
Dr. Balazs' presentation was entitled, "From Pendulums to Heartbeats: Inspirations for Designing Active, Responsive Materials," and was held at the NSF in Arlington, Virginia. Dr. Balazs joined renowned speakers from the University of Colorado/NIST, University of California—Los Angeles, New York University, Cornell University, Harvard University, and the University of Wisconsin in the 2014-2015 series of lectures.
Following her presentation, Public Affairs Specialist Ms. Ivy Kupec from the NSF interviewed Dr. Balazs. Their conversation spanned Dr. Balazs' journey from Hungary, inspiration from her parents, and the future of biosensing. Read the interview here.
Illustration: University of Pittsburgh.