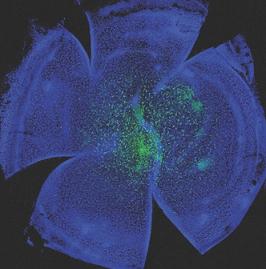 Corneal blindness affects millions worldwide. To date, the only treatment available is a corneal transplant. But potential new cures are coming from unexpected places—including wisdom teeth!
A husband-and-wife team at the University of Pittsburgh has been working toward the dream of regrowing new corneal tissue for years—that's McGowan Institute for Regenerative Medicine affiliated faculty member James Funderburgh, PhD, a professor of ophthalmology and the Associate Director of the Louis J. Fox Center for Vision Restoration, and Martha Funderburgh, a research assistant in his lab and a corneal transplant recipient herself.
Working with Sayan Basu, a physician-scientist in Hyderabad, India, and Fatima Syed-Picard, a Pitt postdoc-turned NIH award recipient, the Funderburghs are now developing ways to repair corneal damage—and even prevent corneal scarring from happening in the first place. It turns out that adult stem cells taken from our own eyes and teeth are capable of regenerating this tissue so vital to our focusing power.  Learn more about this fascinating research by listening to this Pitt Medcast.
Illustration:  Pitt Medcast.
Read more…
Abstract (Dental pulp stem cells: a new cellular resource for corneal stromal regeneration.  Fatima N. Syed-Picarda, Yiqin Du, Kira L. Lathrop, Mary M. Mann, Martha L. Funderburgh and James L. Funderburgh.  Stem Cells Translational Medicine; March 2015, Vol. 4, No. 3, 276-285.)