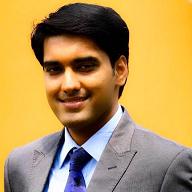 Puneeth Shridhar, MD, MS, is a student in the Medical Device Manufacturing Laboratory of McGowan Institute for Regenerative Medicine affiliated faculty member Youngjae Chun, PhD, Assistant Professor, Department of Industrial Engineering, Swanson School of Engineering, with a secondary appointment in the Department of Bioengineering at the University of Pittsburgh.
Dr. Shridhar's paper entitled, The Rescue Stent for Non-Compressible Traumatic Hemorrhage, was nominated as an outstanding contribution to the Society for Biomaterials 2017 Annual Meeting.  The Education and Professional Development Committee of the Society has awarded Dr. Shridhar with an Honorable Mention STAR (Student Travel Achievement Recognition).
Dr. Shridhar's work is focused on developing a novel stent to manage firearm trauma happening in battlefield and the civilian environment. The medical device will help to achieve a 4-minute large vessel hemorrhage control at the trauma site versus a 20-minute time frame which currently involves patient transport to a hybrid operating room. The device not only disrupts life threatening bleeding but also allows continued perfusion of organs.
Recently, Dr. Chun – along with McGowan Institute faculty member Bryan Tillman, MD, PhD, Assistant Professor in the Division of Vascular Surgery at University of Pittsburgh Medical Center, Sung Kwon Cho, PhD, and William Clark, PhD – received $2.5 million grant in funds from the U.S. Department of Defense to develop the technology.
"Puneeth and I have authored 20+ research papers, all within one year, focused on various medical devices that find critical applications from head-to-toe," said his advisor Dr. Chun. "He is very passionate about next-gen devices, and a STAR recognition awarded to nurture a future leader in the biomaterial arena is a very positive sign."
This year's theme for Society for Biomaterials is Where Materials Meet Medicine. Major themes for 2017 included are translation, 3D printing, cells, drug discovery, immune response, and regulatory issues.
The STAR recognizes research excellence and develops future leaders within the Society. The Society for Biomaterials' award program seeks to recognize significant contributions to the field of biomaterials science from industry, academia, regulatory agencies, and students.
Congratulations, Dr. Shridhar!