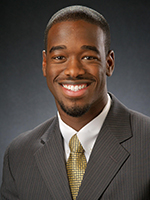 Christopher Mahoney, bioengineering PhD candidate, is one of the 2017 recipients of the TERMIS-AM Student Scientist award.
The TERMIS-AM Student Scientist Award is given to students who demonstrate passion and promise in their research, academics, and service. It provides financial assistance to undergraduate and graduate students who are presenting in the annual meeting.
Mr. Mahoney's research advisor, McGowan Institute for Regenerative Medicine faculty member Kacey Marra, PhD, associate professor of plastic surgery and bioengineering, said, "This award is well-deserved as Chris has consistently excelled in all three areas: research, academics, and service."
The TERMIS-AM annual conference was held December 3-6, 2017, in Charlotte, NC.  Mr. Mahoney presented a poster on "Dual Method Verification of Adipogenesis in Cultures Containing an Adipose Derived Delivery System for Adipose Restoration."
About Christopher Mahoney
Mr. Mahoney works with Dr. Marra on biomaterials and drug delivery for adipose tissue reconstructive applications.
In 2014, Mr. Mahoney received the Wes Pickard Academic Fellowship, which is awarded to students chosen by their department chair who are in good academic standing. In fall 2014, he became a trainee under the University of Pittsburgh's CATER NIH NRSA Institutional Predoctoral Training Grant (program director: McGowan Institute faculty member Paul Monga, MD), giving Mr. Mahoney the funding and support to develop as a student researcher. In March 2017, he was awarded the highly competitive NIH NRSA Individual Predoctoral Fellowship from the National Institute of Biomedical Imaging and Bioengineering to further his research and complete his doctoral degree.
Mr. Mahoney participates in several other professional and community service activities. He serves on the University Senate Committee on Equality, Inclusion, and Diversity Advocacy and the Graduate and Professional Student Government Event Planning Committee. He is also former president of the Engineering Diversity Graduate Student Association and an active member of the Big Brothers and Big Sisters organization.
Congratulations, Mr. Mahoney!
Illustration:  University of Pittsburgh Swanson School of Engineering.
Read more…
University of Pittsburgh Swanson School of Engineering News Release