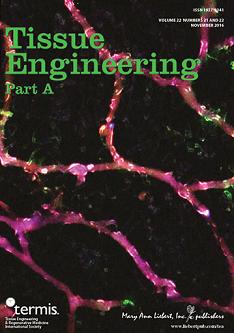 A research image by Emily Bayer – a trainee in the McGowan Institute for Regenerative Medicine Cellular Approaches to Tissue Engineering and Regeneration (CATER) Training Program  – is the cover art of the recent Tissue Engineering Part A journal.
Her paper entitled, "The Influence of Platelet-Derived Growth Factor and Bone Morphogenetic Protein Presentation on Tubule Organization by Human Umbilical Vascular Endothelial Cells and Human Mesenchymal Stem Cells in Coculture," is co-authored with Morgan Fedorchak, PhD, and McGowan Institute for Regenerative Medicine faculty member Steven Little, PhD, Chairman of the Department of Chemical and Petroleum Engineering and William Kepler Whiteford Endowed Professor in the Departments of Chemical and Petroleum Engineering, Bioengineering, Immunology, and Ophthalmology.
The cover art image is captioned:  Immunofluorescent staining CD31 (red), α-SMA (green), and nuclei (blue) of a cross-section of three-dimensionally cocultured HUVECs and hMSCs showing tubule formation in response to sequential delivery of PDGF and BMP with 6 days of overlap in growth factor delivery.
Illustration:  Tissue Engineering Part A.
Read more…
Abstract (The Influence of Platelet-Derived Growth Factor and Bone Morphogenetic Protein Presentation on Tubule Organization by Human Umbilical Vascular Endothelial Cells and Human Mesenchymal Stem Cells in Coculture.  Bayer Emily A., Fedorchak Morgan V., and Little Steven R.. Tissue Engineering Part A; November 2016, 22(21-22): 1296-1304.)