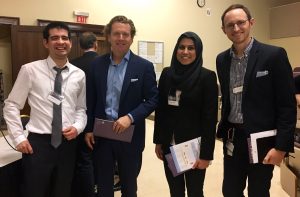 The Michael G. Wells Competition is sponsored by the Michael G. Wells Entrepreneurial Scholars Fund, and is for University of Pittsburgh students who are developing innovations related to the healthcare field.
Second place in the 2016 competition went to a team from the lab of McGowan Institute for Regenerative Medicine faculty member Bryan Brown, PhD, Assistant Professor in the Department of Bioengineering with a secondary appointment in the Department of Obstetrics, Gynecology, and Reproductive Sciences at the University of Pittsburgh.  The team was selected as one of seven finalist groups from 35 initial applicants.  They won 2nd place ($10,000) based upon their pitch to a group of local VC's, consultants, and Michael Wells.  The prize was awarded in front of a large crowd at SCIENCE 2016.
See the video of University of Pittsburgh graduate students Aimon Iftikhar (pictured second from right) and Dan Hachim (pictured first from left) presenting their technology "LayerUp," a nanoscale immunomodulatory coating system for enhancing biomaterial integration and long-term performance.
A paper describing this work was recently published in Biomaterials:  "Shifts in macrophage phenotype at the biomaterial interface via IL-4 eluting coatings are associated with improved implant integration" by Daniel Hachim, Samuel T. LoPresti, Cecelia C. Yates, Bryan N. Brown).
Students (individually or as a team) were given the opportunity to present their ideas at the "First Look" Technology Showcase in October 2016, and compete for the $20,000 Michael G. Wells Entrepreneurial Scholars Award to help move their idea towards commercialization. A $10,000 second place and $6,000 third place were also awarded. The "First Look" Technology Showcase is an annual event hosted by the Innovation Institute that provides University innovators the opportunity to present their ideas to an audience of investors, entrepreneurs, regional economic development representatives, local business executives, and Pitt alumni. Details about the program are available here.
Read more…
Abstract (Shifts in macrophage phenotype at the biomaterial interface via IL-4 eluting coatings are associated with improved implant integration.  Hachim D, LoPresti ST, Yates CC, Brown BN. Biomaterials; 2016 Oct 11;112:95-107.)