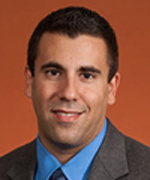 As reported by John Tozzi of Bloomberg Business, when McGowan Institute for Regenerative Medicine affiliated faculty member and Carnegie Mellon University (CMU) biomedical engineer Adam Feinberg, PhD, tried to figure out how to synthesize human tissue 4 years ago, his supplies were prosaic: a kitchen blender, some gelatin packets from the supermarket baking aisle, and a $2,000 3D printer.
"I had no external funding when I started, so we did it kind of on the cheap," said Dr. Feinberg, Associate Professor in the Departments of Biomedical Engineering and Materials Science and Engineering at CMU.
In a paper published recently in Science Advances, Dr. Feinberg and his colleagues describe how they eventually refined the technique to print structural replicas of the tissue of arteries, brains, and other organs out of proteins like collagen and fibrin. While the forms they created aren't functioning organs with living cells, they could one day act as a scaffold on which to grow actual tissues.
Dr. Feinberg's fundamental advance is figuring out how to keep the soft structures created by a modified MakerBot 3D printer from collapsing under their own weight. Unlike plastic, the normal material of a 3D printer, collagen won't hold its shape as it is being synthesized unless it has some support.
The research team started thinking about how Jell-O molds can suspend pieces of fruit in a sugary gel. They experimented with gelatin, blending it into a slurry of fine particles. The slurry would support the structure being built, layer by layer, while still allowing the printer's nozzle—modified with a syringe—to move freely. When the printed object is complete, it would hold together on its own, and the supporting gel could be melted away in water at body temperature.
In the near term, the new method of 3D printing might let doctors test medical treatments on laboratory replicas of patients' own body parts. Drug companies could use such models to test risky new drugs before they're used in humans.
"Right now we have animal models—mice and rats—and we have [human] clinical trials, and not a lot in between," Dr. Feinberg said. "You can potentially make basically a patient-specific piece of heart muscle."
Dr. Feinberg's research was supported by grants from the National Institutes of Health and the National Science Foundation. But the shoestring strategy he started with, hacking an off-the-shelf printer and buying some gelatin packs, still informs how his lab works. Though Carnegie Mellon has applied for a patent on the support bath, his team is releasing information on how to modify the MakerBot printer to handle biological materials under open-source licenses. He has also demonstrated the bioprinting technique at a local school, using chocolate frosting instead of collagen.
"We think it's a lot easier to use these less expensive machines," Dr. Feinberg said. "We can essentially modify it any way we need to make it work."
Watch Dr. Feinberg explain his research in bioprinting:
YouTube:  Adam Feinberg Demonstrates 3-D Bioprinting Process
YouTube:  A 3D Printer for the Zombie Apocalypse: Brains, veins and hearts
YouTube: Adam Feinberg: Tissue Engineering: 3-D Printing of the Heart and Arteries
Read more…
Abstract (Three-dimensional printing of complex biological structures by freeform reversible embedding of suspended hydrogels.  Thomas J. Hinton, Quentin Jallerat, Rachelle N. Palchesko, Joon Hyung Park, Martin S. Grodzicki, Hao-Jan Shue, Mohamed H. Ramadan, Andrew R. Hudson and Adam W. Feinberg.  Science Advances; Vol. 1, No. 9, 02 October 2015.)