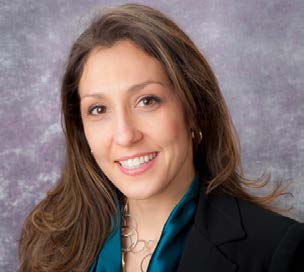 Pre-surgery exercising—prehabilitation—before that total knee replacement may not sound like an activity you want or can participate in however clinicians have found that the benefits may have a significant impact on your recovery.  The intention is that the fitter patients are when they have surgery, the quicker they will recover from surgery.
McGowan Institute for Regenerative Medicine faculty member Fabrisia Ambrosio, PhD, Director of Rehabilitation for UPMC International and an Associate Professor in the Department of Physical Medicine & Rehabilitation at the University of Pittsburgh, recently spoke with Cheryl Stritzel McCarthy of the Wall Street Journal about "What You Need to Do Before Having Knee Surgery."
Exercise, or mechanical loading as scientists call it, improves stem cells that stimulate tissue regrowth and increase blood supply. Having those stem cells and tissues primed helps healing, says Dr. Ambrosio.
Her work, still in the early stages, applies regenerative-biology research to prehab recommendations.
Fitness can dictate success after surgery, she says, but research is under way to pinpoint the optimum amount, duration, type, and intensity of exercise.
Dr. Ambrosio's research has the long-term goal of developing Regenerative Rehabilitation approaches to improve skeletal muscle healing and functional recovery. Her laboratory investigates the underlying mechanisms by which targeted and specific mechanotransductive signals can be used to enhance donor and/or host stem cell functionality in mouse and human models. Dr. Ambrosio's research has been supported by the NIH, the DOD, the Foundation for Physical Therapy, the Claude D. Pepper Older American's Independence Center, and the University of Pittsburgh Institute on Aging.
Dr. Ambrosio is the Founding Course Director of the Annual International Symposium on Regenerative Rehabilitation. She is also the Founding Director of the International Consortium for Regenerative Rehabilitation, which includes eleven participating institutions representing North America, Europe, and Asia.
Read more…