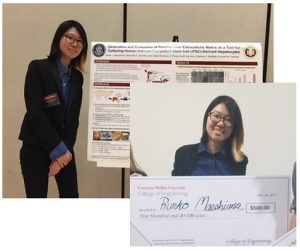 Rinko Maeshima is an undergraduate Research Assistant at the McGowan Institute for Regenerative Medicine and graduated from Carnegie Mellon University (CMU) majoring in Chemical and Biomedical Engineering.  Ms. Maeshima works in the laboratory of McGowan Institute's Deputy Director Stephen Badylak, DVM, PhD, MD, Professor in the Department of Surgery and Director of the Center for Pre-Clinical Tissue Engineering within the Institute.
Recently at CMU's Meeting of the Minds – Undergraduate Research Symposium, Ms. Maeshima took first place in the CIT Honors Research Poster Competition winning a $500 prize.  The title of her poster was "Generation and Evaluation of Porcine Liver Extracellular Matrix as a Tool for Culturing Human Induced Pluripotent (iPSC)-Derived Hepatocytes."
In Dr. Badylak's laboratory, Ms. Maeshima works on:
Investigating how iPS-derived hepatocytes respond in 2D culture to decellularized porcine liver scaffolds through DNA quantification, microscopy and DAPI staining.
Optimizing the yield of therapeutic proteins from liver ECM scaffolds and analyzing results through RNA extraction, PCR, and quantification
Physiologically evaluating iPS-derived macrophages through heat map and their response to cytokines, and comparing them to cell line macrophages.
Ms. Maeshima will continue her studies at CMU in the Integrated Master's program to obtain a Master's degree in Mechanical Engineering.
Congratulations, Ms. Maeshima!