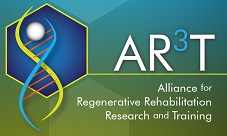 The Alliance for Regenerative Rehabilitation Research and Training (AR3T) is looking to support faculty who are developing novel technology projects that will enable cutting-edge investigations in Regenerative Rehabilitation research. The ideal proposal will lead to a research tool that will enable further Regenerative Rehabilitation investigations.
Stem cells interpret mechanical forces in a broad spectrum of ways that can affect their behavior and, ultimately, their ability to drive tissue regeneration. Unfortunately, there are few in vitro or ex vivo methods currently available that allow for modeling and quantification of the direct effect of mechanical stimuli on stem cell behavior. There is, therefore, a need to develop ex vivo systems capable of modeling biologically relevant mechanical loads on stem cells in order to understand the mechanistic effects of physical forces on stem cell fate and function. There is also a need to accurately assess the effects of different types of mechanical forces experienced in vivo by endogenous stem cells existing within tissues or exogenous stem cell populations transplanted for regenerative therapies. The Regenerative Rehabilitation research community will benefit from the development of technologies that will enhance our understanding of stem cell responses to mechanical stimulation.
Eligible individuals include the Principal Investigator (PI) with a doctoral degree in a relevant field, and must be employed as a research investigator at an institution within the United States. Funding is for up to two projects, each for up to $100,000 ($50,000/year for 2 years). Total award includes indirect costs at the awardee's institution.
July 1, 2017, is the Letter of Intent deadline date.  Learn more information about this opportunity on the AR3T website here.