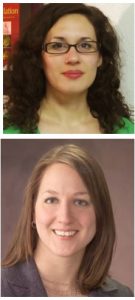 The upcoming 2017 Gordon Research Seminar (GRS) on Elastin, Elastic Fibers & Microfibrils will provide a unique forum for graduate students, post-docs, and other early-career scientists to present and exchange new unpublished data and cutting edge ideas on elastic matrix biology and applications. Presentations will be selected to reflect the diverse investigative directions and approaches in the field, from the molecular structure, function, and organization of elastic fiber components, to their mechanistic interactions with vasculature, skin, lung, and other elastic tissues, and their bio-engineering potential for cell repair and regeneration. McGowan Institute for Regenerative Medicine affiliated faculty member Marie Billaud, PhD, Research Assistant Professor in the Department of Cardiothoracic Surgery, University of Pittsburgh School of Medicine, and in the Thoracic Aortic Disease Research Lab of the McGowan Institute, is a co-organizer of this GRS being held July 29-30, 2017, at the University of New England in Biddeford, ME.
The program assembled is targeted towards trainees in the field, with an international collection of world-leading male and female scientists engaged in research on elastin and more broadly on extracellular matrix.  Key speakers confirmed to date include:
Keynote Session: Historical and Current Perspectives on Elastic Fiber Function: From Structure to Signaling – Francesco Ramirez (Icahn School of Medicine at Mount Sinai)
Mentorship Session: I Got My PhD – Now What? – Anthony Weiss (University of Sidney, Australia); Katja Schenke-Layland (University Tübingen, Germany); Julie Phillippi (University of Pittsburgh and McGowan Institute for Regenerative Medicine); Silvia Smaldone (Regeneron Pharmaceuticals, Inc.)
The GRS will be followed by an associated Gordon Research Conference (GRC). This conference serves as the largest international gathering of researchers from the elastic tissue field, comprising over 150 delegates and more than 100 poster and oral presentations. The GRC provides an international forum for the presentation and discussion of frontier research in the biological, chemical, and physical sciences, and their related technologies; and for over 80 years, have been viewed as the world's premier scientific meetings.
Read more…
Elastin, Elastic Fibers & Microfibrils GRS