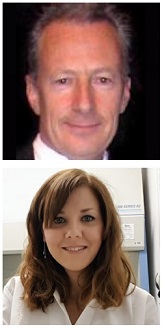 McGowan Institute for Regenerative Medicine faculty member Eric Lagasse, PharmD, PhD, is an Associate Professor in the Department of Pathology at the University of Pittsburgh and a co-founder and Chief Scientific Officer of LyGenesis, a clinical-stage biotechnology company developing cell therapies for patients with end stage liver disease, Type 1 diabetes, end stage renal disease, single enzyme deficiencies, and aging.
A decade ago, Dr. Lagasse, a world leader in ectopic transplantation research conducted at his McGowan Institute laboratory, began a series of experiments that would form the foundation for LyGenesis. He discovered that hepatocytes (liver cells) transplanted into lymph nodes would not just survive, but thrive, organize, and begin to function as miniature ectopic livers, exerting life-saving effects in otherwise fatal small and large animal models of end stage liver disease. His research confirms that it is possible to harness the body's lymph nodes as bioreactors for growing functional ectopic organs.
Dr. Lagasse and McGowan Institute affiliated faculty member Maria Giovanna Francipane, PhD, Principal Investigator in Regenerative Medicine at Fondazione Ri.MED (Palermo, Italy), an international partnership between the Italian Government, the Region of Sicily, the Italian National Research Council (CNR), the University of Pittsburgh, and UPMC, are co-authors on the publication of a new peer-reviewed paper published in the journal Hepatology on LyGenesis's organ regeneration technology.
LyGenesis's technology is built on a broad foundation of small and large animal preclinical studies showing that lymph nodes can serve as sites for organogenesis – the growth of functioning ectopic organs. This latest publication entitled "Fat-Associated Lymphoid Clusters as Expandable Niches for Ectopic Liver Development," demonstrates that another lymphoid site, the fat-associated lymphoid cluster, can act as an additional anatomical location for ectopic liver development and restoration of liver function.
"This study consolidates and expands on the use of lymphoid sites, including the lymph node and fat-associated lymphoid clusters, for the development of functional ectopic livers. In this latest study, we were able to demonstrate the compensatory role of ectopic livers grown within the fat-associated lymphoid clusters, which resulted in the restoration of liver function and rescuing the animals from otherwise fatal liver disease," said Dr. Lagasse.
David Roblin, MBBS, FMedSci, CEO of Juvenescence Therapeutics, a lead investor in LyGenesis, noted, "This latest peer-reviewed publication in one of the top journals in the field further supports LyGenesis's platform technology using the lymph node and now other lymphoid sites as bioreactors to grow functional, life-saving tissues. We are excited about the potential to impact patients as LyGenesis commences its first clinical trial among patients with end stage liver disease."
LyGenesis's lead allogeneic cell therapy program is currently in a Phase 2a clinical trial for patients with end stage liver disease (ClinicalTrials.gov Identifier: NCT04496479).
Read more…
Abstract (Bing Han, Maria Giovanna Francipane, Amin Cheikhi, Joycelyn Johnson, Fei Chen, Ruoyu Chen and Eric Lagasse. Fat-associated lymphoid clusters as expandable niches for ectopic liver development. Hepatology (2022).)