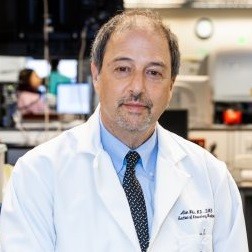 Researchers at the University of Pittsburgh have detected a new omicron subvariant in Western Pennsylvania, reported Emily Mullin of the Pittsburgh Post-Gazette.
Known as BA.4, it has been designated as a variant of concern by the U.S. Centers for Disease Control and Prevention. While COVID-19 cases are climbing in Allegheny County, the new variant is not seen as responsible for the increase.
Using an in-house test developed to find new variants, the scientists identified BA.4 in a sample taken in mid-April from a patient at the University of Pittsburgh Medical Center. It's the first known case of BA.4 in Western Pennsylvania. The researchers published the findings in the Journal of Medical Virology.
BA.4 and a similar omicron subvariant known as BA.5 were reclassified as variants of concern, up from variants of interest, by the European Centre for Disease Prevention and Control. Both BA.4 and BA.5 were first detected in South Africa in January and have since become dominant variants there.
"We assume that the virus probably traveled here," said Alan Wells, MD, DMS (pictured), the Thomas J. Gill III Professor of Pathology and Executive Vice-Chairman of the Department of Pathology at the University of Pittsburgh, a faculty member of the McGowan Institute for Regenerative Medicine, and senior author on the paper.
In a May 13 update, the European agency said the growth of BA.4 and BA.5 in South Africa is likely due to their ability to evade vaccine-induced immunity and natural immunity. Early evidence indicates that unvaccinated individuals who have experienced an infection with the original omicron variant, BA.1, can be reinfected with BA.4 and BA.5. While vaccinated individuals appear to be better protected, immunity against omicron and its subvariants seems to wane over time.
The update went on to say that the presence of these variants "could cause a significant overall increase in COVID-19 cases" in Europe in the coming weeks and months.
In the United States, BA.4 is not yet one of the major circulating variants.
"I wouldn't worry too much about this one yet," said Dr. Wells. There's no indication that BA.4 and BA.5 are more severe compared to other omicron subvariants.
However, as more variants arise, he said it's likely that they will get better at evading current COVID-19 vaccines. Already, several monoclonal antibody drugs have been rendered ineffective as the coronavirus has evolved.
"I think the lesson is, we really have to make sure our vaccine strategy keeps up with variants," said Dr. Wells. He added that next-generation vaccines that target multiple COVID-19 variants may be able to provide better, longer-lasting protection.
COVID-19 cases are once again increasing in Western Pennsylvania, but they're being driven by the BA.2 and BA.2.12.1 omicron subvariants.
Concentrations of the coronavirus in wastewater samples have also continued to increase — between 2% and 8% daily from the first to second week of May 2022.
Read more…
Abstract (First detection of SARS-CoV-2 Omicron BA.4 variant in Western Pennsylvania, United States. Tung Phan, Stephanie Boes, Melissa McCullough, Jamie Gribschaw, Jane W. Marsh, Lee H. Harrison, Alan Wells. Journal of Medical Virology, May 9, 2022.)