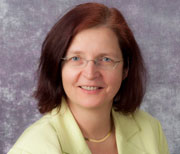 McGowan Institute for Regenerative Medicine affiliated faculty member Steffi Oesterreich, PhD, Professor of Pharmacology and Chemical Biology at the University of Pittsburgh Cancer Institute, is a recipient of a METAvivor Translational Research Award.  Dr. Oesterreich's project is entitled "Targeting mesothelial – tumor cell interaction to treat invasive lobular cancer metastases."  This project was one of the 23 new grant awards for metastatic breast cancer research totaling $3,650,000.
Metastatic breast cancer (also known as stage IV or advanced stage cancer) is the spread of breast cancer to other parts of the body — most commonly to the bones, liver, lungs, and/or brain. Approximately 30% of breast cancer patients metastasize, with the mean survival after diagnosis being 33 months. In the U.S., only 2-5% of all cancer research funds are dedicated to stage IV cancer research – yet 98% of all breast cancer deaths are caused by a metastasis.
METAvivor Research and Support Inc. is an Annapolis-based, volunteer-led, non-profit organization founded by metastatic breast cancer (MBC) patients in 2009. The organization's main focus is to fund critical research that will lead to advances in treatment options, quality of life and survival for patients diagnosed with MBC. Since 2009, METAvivor has awarded 129 research grants totaling $17,250,000. METAvivor is the only national organization with a peer-reviewed grant program aimed at exclusively funding MBC research, and 100% of all donations go to fund research.
Congratulations, Dr. Oesterreich!
Read more…