By Cristina D'Imperio
The Military Health System Research Symposium (MHSRS) was held from August 14-17 in Kissimmee, Florida. The MHSRS is a joint symposium between military medical care providers with deployment experience, military scientists, academia, and industry. It is the U.S.'s foremost symposium focused on the medical needs of service members.
The 2023 symposium, titled "Medical Readiness for the Future Fight," served as a collaborative setting for attendees to discuss research and advancements in the fields of combat casualty care, military operational medicine, clinical and rehabilitative medicine, and military infectious disease. This year's event was comprised of 460 oral presentations covering more than 65 scientific topics and 1,400 posters. There were approximately 3,500 attendees.
McGowan, together with Center for Military Medicine and Research (CMMR), managed the University's participation including an exhibit booth, oral and poster presentations, and numerous partnership meetings where attendees were able to discuss with representatives the ways in which the University is addressing key military medicine research needs for the U.S. Department of Defense.
The exhibit booth was visited by hundreds of attendees. The Pitt team created a collaborative setting where military providers with deployment experience, research and academic scientists, and international and industry partners could discuss research and health care initiatives. Topics ranged from regenerative and reconstructive medicine; transplantation immunology; and neuroscience, including traumatic brain injury and neuroprosthetics, with the aim of getting innovative therapies to injured service members.
Representatives from the University included Dr. Ron Poropatich (pictured), Dr. J. Peter Rubin, Dr. David O. Okonkwo, Ann Gleeson, Jan Berkow, Melissa D'Loss, Dr. Chandan Sen, Patrick Cantini, Katy Wharton, Dr. Shomita Steiner, Brent Toto, and Dr. Jan Pringle among others.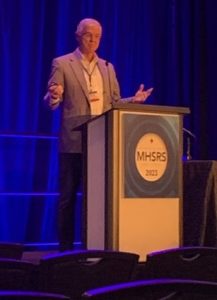 Ron Poropatich, MD, McGowan affiliated faculty and Director of the CMMR, gave an oral presentation titled "Field Testing of the Trauma Care in a Rucksack Closed Loop Diagnosis and Resuscitation System for the Medical Management of Circulatory Shock" on Wednesday, August 16, 2023.
J. Peter Rubin, MD, McGowan faculty, Chair of the Department of Plastic Surgery, and Director of UPMC Wound Healing Services, presented on Tuesday, August 15, in a break-out session titled "A Next-Generation Point-of-Injury Wound Therapy That Disrupts Biofilm, Reduces Inflammation, and Promotes Healing."
David O. Okonkwo, MD, PhD, McGowan affiliated faculty, Director of Neurotrauma and of the Scoliosis and Spinal Deformity Program at UPMC, and Clinical Director of the Brain Trauma Research Center, was part of a panel discussion titled, "Traumatic Brain Injury Treatment for Early Combat, In-theater Administration."
New scientific knowledge based on military-specific research and development helps to meet the unique medical needs of service members. The University of Pittsburgh is a leader in medical research and development, serving the needs of the military, and getting innovative therapies to injured service members.