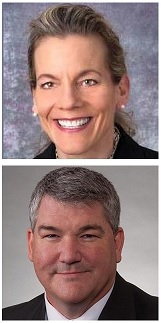 Magee-Womens Research Institute (MWRI) will award the $1 million Magee Prize to an international team of scientists during the Magee-Womens Summit November 16 to 18, 2021. The prize will help fund new research initiatives and transdisciplinary collaborations to promote knowledge and enhance the health and wellness of women and infants worldwide.
Three Magee Prize finalist teams were selected, one of which includes McGowan Institute for Regenerative Medicine affiliated faculty team members.  That project is:
Vaginal Stem Cells: The Missing Link in Vaginal Reconstruction. Pamela Moalli, MD, PhD (MWRI/University of Pittsburgh); Kyle Orwig, PhD (MWRI/University of Pittsburgh), Caroline Gargett, PhD. (Monash University, Australia)
An increasing number of women are seeking vaginal reconstruction surgery to repair tissue loss after surgery for pelvic cancers or following ovariectomy, chemotherapy and radiation, which can result in the vagina becoming contracted, thinned, and painful. After noticing the limited range of biomaterials for these procedures, Dr. Moalli was inspired to develop better solutions. This project seeks to identify stem cell populations that restore vaginal structure and function and isolate the cellular ecosystems needed for stem cell survival, proliferation, and engraftment. The researchers will use a novel bioassay to develop vaginal organoids from vaginal stem cells.
"I am beyond excited about this study because it provides a viable solution to young girls and women in whom vaginal structure and function has been compromised. Stem cell technologies for use in tissue biofabrication is where the future of reconstructive surgery lies," Dr. Moalli said.
The Magee Summit is sponsored by UPMC and UPMC Health Plan, and the Magee Prize is sponsored by the Richard King Mellon Foundation. For additional information about the Magee Summit, the Magee Prize criteria and to register, please visit www.mageesummit.org.
Read more…
UPMC/McGee-Womens Research Institute News Release