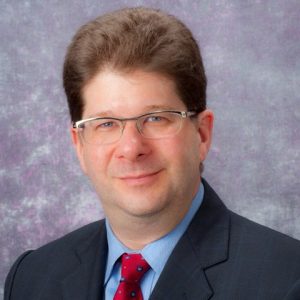 After undergoing bariatric surgery, losing a large amount of weight is a major feat. But it might leave you with excess skin that can affect your self-esteem and remind you of your past weight. UPMC's Life After Weight Loss program can help with a focus on plastic surgery for people after massive weight loss. The program is nationally and internationally known for its cutting-edge body contouring surgical techniques. In fact, many of the methods used by plastic surgeons around the world were pioneered by UPMC surgeons.
Ashley Welch, writer for WebMD.com, covered the process of this program with McGowan Institute for Regenerative Medicine faculty member J. Peter Rubin, MD (pictured), Chair of the Department of Plastic Surgery, the UPMC Endowed Professor of Plastic Surgery, Director of UPMC Wound Healing Services, and Professor of Bioengineering at the University of Pittsburgh.
During body contouring procedures, the patient is put under general anesthesia, and a surgeon trims excess skin and fat. Remaining skin is sutured together.
"These surgeries can really be done from head to toe," says Dr. Rubin.
Surgeons focus on areas of the body that patients find most bothersome. Dr. Rubin says one of the most common contouring procedures is a panniculectomy, also called an abdominoplasty or tummy tuck.
Other procedures include arm lifts, female breast reshaping, male breast reductions, thigh and buttock lifts and reshaping, face and neck lifts, and liposuction.
People must meet certain clinical criteria before they get body contouring, including maintaining their goal weight for at least 6 months.
"You don't want to take someone to the operating room who's actively losing weight," Dr. Rubin says.
Generally, a plastic surgeon will perform these procedures only 12 to 18 months after bariatric surgery.
The cost can range between $5,000 and $10,000 per procedure, Dr. Rubin says. Sometimes, insurance companies cover the bill, depending on the state and individual plans.
"After undergoing body contouring procedures, people should expect to be out of work for 2 to 4 weeks and should hold off on strenuous activities for at least 6 weeks," Dr. Rubin says.
Risks from body contouring procedures are the same as with any major surgery, and include fluid buildup, infections, and bleeding.
Another thing to consider is that skin removal surgeries leave scars, which vary from person to person but can be extensive.
For more information on this procedure, please phone for a consultation at 412-641-3960 or 1-877-639-9688.
Read more…
UPMC Life After Weight Loss (with embedded video of Dr. Peter Rubin)