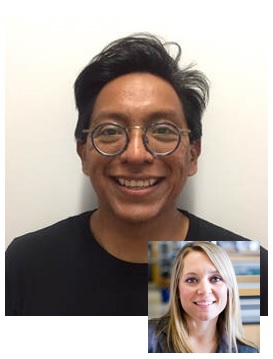 Jorge Jimenez, a PhD candidate in bioengineering in the lab of McGowan Institute for Regenerative Medicine affiliated faculty member Morgan Fedorchak, PhD, Assistant Professor of Ophthalmology, Chemical Engineering, and Clinical & Translational Sciences at the University of Pittsburgh, and Marisol Villela Balderrama, a PhD student in history of art and architecture, led a team effort to earn a Year of Engagement 2020 award for "Diseño Juntxs (Design Together): Engineering and Art with the Latinx Community in Pittsburgh." The Year of Engagement invited students, staff, and faculty to create partnerships that confront challenges to engagement and co-create solutions at the institutional, local, regional, statewide, national, or international levels in the 2020-21 academic year and beyond.
Diseño Juntxs (Design Together) is a series of remote bilingual (Spanish/English) workshops engaging Latinx youth in prototype design activities. The workshops will focus on art and design of the Americas in the Pre-Columbian traditions and teach the engineering design process using free, bilingual 3D prototyping software (Tinkercad.com, Autodesk Inc.).
The project is a co-partnership with Casa San José, a local Latinx nonprofit organization in Beechview, PA. The team was developed through the Emerging Latinx Community Research and Publishing Group (ELC), a mentoring and networking program for those interested in Latinx health issues.
"Our culturally tailored approaches to design thinking bridge interdisciplinary perspectives, and we believe our strategy to be inclusive to our community," Jimenez added. "I hope this project adds value to the education space as a case study in inclusive practices to teaching design."
Illustration:  Dr. Fedorchak laboratory (Jimenez)/McGowan Institute for Regenerative Medicine (Fedorchak).
Read more…
University of Pittsburgh Swanson School of Engineering News Release