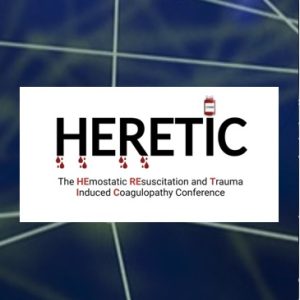 The University of Pittsburgh's Center for Military Medicine Research (CMMR) and the Trauma and Transfusion Medicine Research Center (TTMRC), along with McGowan Institute for Regenerative Medicine (MIRM), and in collaboration with the Trauma Hemostasis and Oxygenation Research (THOR) Network, are proud to announce the inaugural HEmostatic REsuscitation and Trauma Induced Coagulopathy (HERETIC) Symposium!
This Symposium, scheduled for October 11-12, 2022, at the Wyndham Pittsburgh University Center in Pittsburgh, Pennsylvania, will disseminate and discuss the most up-to-date research and best practices in the field of hemostatic resuscitation and trauma-induced coagulopathy, and celebrate the growing partnerships and research opportunities available through private and public research programs.
The Symposium's intent is to bring together a rich mix of researchers, providers, the Department of Defense, and private and public research program managers in order to present the current state of the science, stimulate discussion, and build connections that are only possible through this forum.
The poster abstract submission deadline is September 29, 2022.  Find the form here.
The latest Symposium agenda is here.
Register for the Symposium here.
More Symposium information is here.