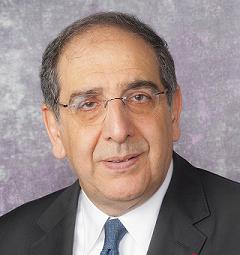 Allison Proffitt, for Bio-IT World, recently reported how innovative vision restoration/care and video gaming have merged.  Her article features her conversation with Edouard Gasser, CEO of Tilak, who speaks of his partnership with McGowan Institute for Regenerative Medicine affiliated faculty member José-Alain Sahel, MD, Chair and Distinguished Professor of the Department of Ophthalmology at the University of Pittsburgh School of Medicine, director of the UPMC Eye Center, and the Eye and Ear Foundation Endowed Chair of Ophthalmology.
Mr. Gasser hails from the video game industry. Before cofounding Tilak he was Studio Director at Gameloft Madrid, a company developing and editing videogames. While Mr. Gasser brings the video game expertise, his co-founder, Dr. Sahel brings the medical expertise.
In 2016, Mr. Gasser and Dr. Sahel met, and Dr. Sahel pitched his idea for a gaming tool to more frequently monitor his patients who had chronic diseases of aging. The result of that meeting was the first Tilak Healthcare product: OdySight, an app Mr. Gasser describes as a highly engaging, clinically validated, medical mobile game to help monitor patients with chronic eye diseases of aging such as AMD and diabetic retinopathy.
The app doesn't diagnose eye disease and playing the games doesn't claim to improve visual acuity. Instead, OdySight is available by prescription only for current patients and uses the phone's camera and patient input to flag changes in patient vision.
Patients are introduced to the app by their retinal specialist who prescribes OdySight through a unique code that launches a secure download from the Apple or Google app store. The doctor puts in the patient baseline based on treatment thus far, and the first use of the OdySight app—1 to 3 minutes—usually takes place in the doctor's office. That first use combined with the doctor's entered data calibrates the app's baseline visual acuity for the patient.
From there, the patient plays OdySight games regularly to continue tracking visual trends. A user session consists of two parts: medical modules and dynamic puzzle games. The two clinically validated medical modules launch first when a user opens the app. One measures visual acuity; the other is an Amsler grid test, a tool for flagging problem spots in the field of vision. Completing the medical modules earns patients "energy" to play games: "a fantastic adventure composed of dynamic puzzles where you have to recompose an image," Mr. Gasser explained.
For doctors, OdySight is designed to be easy to incorporate into their clinical routines and not overly invasive. Doctors have a patient dashboard; color codes group users as inactive, active and well, or active and requiring medical attention. Tilak is wary of over-notifying doctors, Mr. Gasser said, and tries to limit doctor emails to twice a week.
One missed test within the medical module doesn't raise red flags, but several bad results indicate a trend and trigger an alert to both the patient and the doctor.
"When there is a drop in visual acuity, usually what doctors say is you need to go see your ophthalmologist within 10-14 days. When you look at the lack of resources that you have in terms of number of ophthalmologists, and how hard it is to access treatment, you realize that having a tool that helps you monitor those changes is critical to optimizing the healthcare process," Mr. Gasser explains.
Read more…