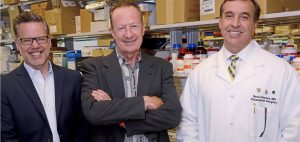 LyGenesis, Inc., a biotechnology company developing innovative technology for organ regeneration, announced recently that they have raised $3 million in Series A financing from Juvenescence, Ltd.  LyGenesis' technology uses lymph nodes as bioreactors to regrow functioning organs within a patient's own body. The financing will enable LyGenesis to complete the final preclinical work required to enable human clinical trials, which will initially focus on patients with end stage liver disease.
LyGenesis was built on nearly a decade of groundbreaking academic research by McGowan Institute for Regenerative Medicine faculty member Eric Lagasse, PharmD, PhD, Associate Professor in the Department of Pathology at the University of Pittsburgh and LyGenesis' Chief Scientific Officer. This research, funded in part by the National Institutes of Health and conducted at the University of Pittsburgh's McGowan Institute, revealed that a variety of different cells types and tissues, including the liver, could engraft and grow within lymph nodes. LyGenesis has licensed patents for this technology from Pitt.
"Remarkably, we were able to get these transplanted cells to organize, proliferate, and vascularize into functioning ectopic organs, which rescued animals from otherwise fatal cases of organ failure," noted Dr. Lagasse.
"With thousands of patients on organ transplant waiting lists, our organ regeneration technology has the potential to address the imbalance between organ supply and demand in two ways," said Michael Hufford, PhD, Chief Executive Officer of LyGenesis. "First, instead of one donated organ treating just one patient, one donated organ could serve as the seed to treat dozens of patients simultaneously. Second, procedures using Lygenesis' technology would not require major transplantation surgery, but would instead use a minimally invasive outpatient endoscopy, decreasing costs while enabling patients considered too sick or having too many comorbidities to qualify for traditional organ transplantation to receive treatment."
McGowan Institute affiliated faculty member and Professor of Surgery, and Director, Research & Innovation, in the Department of Surgery at West Virginia University's School of Medicine and LyGenesis' Chief Medical Officer, Paulo Fontes, MD, FACS, said, "There is no greater privilege and responsibility than the care of patients in need of life-saving therapies. Having trained with Dr. Thomas Starzl, the father of modern transplantation surgery, and directed the Liver Transplant Program at the Starzl Transplant Institute for over a decade, I immediately appreciated the potential clinical significance of this technology. Working with the patient's own body, instead of transplanting a whole new organ or externally bioengineered organ, is a promising new paradigm for regenerative therapies."
"LyGenesis has the wonderful combination that we look for in a life science company: innovative science, broad applicability to not only treat human disease but also to potentially extend healthy longevity, with a management team that has the experience and dedication to bring this technology to patients and execute on the business plan," said Greg Bailey, MD, Co-Founder and CEO of Juvenescence, who will also be joining LyGenesis' Board of Directors.
"The technology is a treatment in and of itself, but it is also a platform for pursuing additional therapies for pathologies that are directly involved in the process of aging, the delivery of future regenerative therapies based on induced pluripotent stem cells (iPS cells), and the delivery of other genetically modified cellular therapies."
About LyGenesis, Inc.
LyGenesis is a biotechnology company with an organ regeneration technology platform enabling a patient's lymph nodes to be used as bioreactors to regrow functioning ectopic organs. LyGenesis' lead preclinical program is focused on liver regeneration for patients with end stage liver disease. Other therapeutic targets for organ regeneration include the thymus, pancreas, and kidney. Privately held, LyGenesis is headquartered in Pittsburgh, Pennsylvania. To learn more, please visit their website at www.lygenesis.com.
About Juvenescence, Ltd.
Juvenescence invests its venture capital and drug development expertise in products that have the promise to not only cure disease, but also prolong an active and healthy lifespan. Juvenescence believes that recent scientific and medical advances are enabling the development of therapeutics that, for the first time, will meaningfully extend our health-span, and eventually our lifespan. The Juvenescence Team has a long history of successfully developing drugs to treat disease and is now focused on therapies for all people to live healthy longer.
LyGenesis, Inc. is one of three recent spinout companies of the McGowan Institute.  The other two include Renerva (Nerve Regeneration—Bryan Brown, PhD; Lorenzo Soletti, PhD, CEO), and Restoure (Esophageal Repair—Stephen Badylak, DVM, PhD, MD; Paul Fagan, CEO).
Illustration:  LyGenesis has three employees. Eric Lagasse, PharmD, PhD (pictured center), who directs the Cancer Stem Cell Center at the McGowan Institute, where he has a lab, is chief scientific officer. West Virginia University Director of Research and Innovation Paulo Fontes, MD (pictured right), is chief medical officer. Pitt Innovation Institute entrepreneur-in-residence Michael Hufford, PhD (pictured left), a veteran of the life sciences field with 20 years' experience, is CEO.  Credit:  Lake Fong/Pittsburgh Post-Gazette.
Read more…