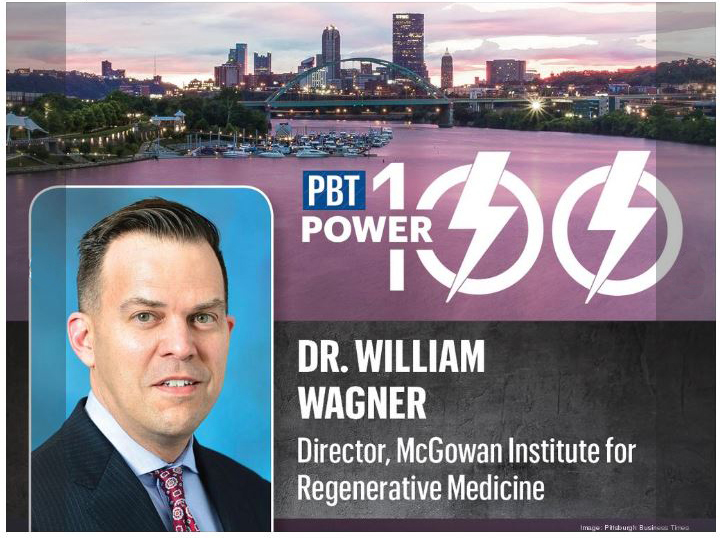 In October, the Pittsburgh Business Times announced the establishment of their inaugural "Power 100" List which they describe as individuals who represent "Pittsburgh's most influential movers and shakers. These are the people who have defined and are redefining the region, who are controlling the agenda right now, and who are leading and shaping the industries they are in." McGowan Institute for Regenerative Medicine director William Wagner, PhD, Distinguished Professor of Surgery, Bioengineering and Chemical Engineering at the University of Pittsburgh, was selected as a "Power 100" honoree as a Pittsburgh driving force and motivator.
Under Dr. Wagner's leadership, the McGowan Institute has advanced its mission to develop therapies that reestablish tissue and organ function impaired by disease, trauma, or congenital abnormalities. Dr. Wagner is internationally recognized for his personal advances to science and clinical care (his personal area of research relates to cardiac care), and under his leadership, the scientists and clinicians at the McGowan Institute have developed and translated technologies that have treated more than ten million patients…and this is only a "tip of the iceberg" as there are a multitude of emerging technologies in various stages of maturity in the McGowan Institute Labs.
Dr. Wagner has also led the development of a growing commercial community –with over 30 spin-out companies based on technologies developed by McGowan Institute affiliated faculty.
Success in the McGowan Institute's mission impacts patients' lives, brings economic benefit to the region, serves to train the next generation of researchers, and advances the expertise of our faculty in the basic sciences, engineering and clinical sciences. Dr. Wagner is known around the world for leadership in regenerative medicine-based science and the success in making those innovations available to patients in need.
"Our philosophy is, if it does not get to the patient, if it does not impact patients' lives, we've not fulfilled our mission," said Dr. Wagner during a Q&A session with Pitt's Innovation Institute.
Congratulations, Dr. Wagner!
Photo credit: Pittsburgh Business Times
Read more…