By Cristina D'Imperio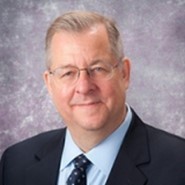 David Whitcomb, MD, PhD, McGowan affiliated faculty, has been awarded the Legacy Award from the National Pancreas Foundation (NPF).
The NPF, established in 1997, is the only foundation dedicated to patients who experience any form of pancreatic disease, including pancreatic cancer, acute pancreatitis, chronic pancreatitis, and pediatric pancreatitis. The foundation also participates on the advisory council for the National Institute of Diabetes and Digestive and Kidney Diseases (NIDDKD), the National Cancer Institute Gastrointestinal Steering Committee, and as Department of Defense Consumer Reviewers.
The NPF's Legacy Award, created in 2021, honors the career achievements of clinicians working in the field of pancreatic disease.
Dr. Whitcomb received the Legacy Award on October 6, 2023, at the NFP's Courage for a Cure Gala held at PNC Park. Dr. Whitcomb leads active research teams focusing on pancreatic diseases and provides an information service on pancreas-related issues to patients, physicians, and scientist through participation in Pancreas.org and with a quarterly patient newsletter, Pancreas Education and Research Letter (PEaRL).
Dr. Whitcomb is the Giant Eagle Foundation Professor of Cancer Genetics and a tenured Professor of Medicine, Cell Biology and Physiology, and Human Genetics at the University of Pittsburgh, as well as the Director of the Precision Medicine Service at UPMC. He is editor-in-chief of Clinical and Translational Gastroenterology, the top-ranked open-access gastroenterology and hepatology journal.
The NPF recognized Dr. Whitcomb for his lifetime contributions to pancreas research.
Read more from PittWire here.